Ross D. Stadheim
Partner
Phone: 612-605-4098
866-523-8533 (Toll Free)
Fax: 612-605-4099
Email: stadheim@halunenlaw.com
Early on in law school, Ross Stadheim discovered his true passion — the plaintiff side of employment law. Embracing a chance to make a meaningful difference, he never looked back. Ross has garnered almost $28 million in settlements and verdicts for his clients during his time at Halunen Law. He is part of an elite group of just 2.5% of Minnesota attorneys who are under the age of 40, or have practiced law less than 10 years, to be selected to the Super Lawyers list as a "Rising Star" for 2014 through 2019.  Ross has an excellent record of recovery for his clients.  Out of the 148 cases he has had in his eight years with the firm, all but 5 have resulted in recovery—a 96.5% success rate. However, all cases are judged on the particulars of their individual facts and there is no guarantee of success.
Recognizing the emotional magnitude of wrongfully losing a job, and the momentous task of suing an employer, Ross takes pride in making every effort to keep his clients informed and reassured. Picking up the phone, sending the additional email  — whatever it takes  — he is committed to a transparent, trustworthy client relationship. Whether an employee has experienced discrimination, retaliation or a wrongful termination, Ross' pragmatic approach is to pursue all options for resolution. Failing that, he doesn't hesitate to go to trial. Tenacious. Resolute. Results-oriented. Ross brings these qualities and more to each and every case.
"Losing a job can be the most difficult time of a person's life. I'm determined to help reach the most successful outcome from a devastating situation."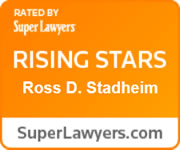 Notable achievements include:
Weber vs. Minnesota School of Business d/b/a Globe University. $1.1 million dollar jury verdict in Washington County, Minnesota, inclusive of attorneys' fees, for a wrongfully-terminated manager that blew the whistle on her employer in this Minnesota Whistleblower Act case.  Successfully defended that verdict against the company's appeals in the Minnesota Court of Appeals after the verdict was handed down.
Messina vs. North Central Distributing, Inc., d/b/a Yosemite Home Décor. Successfully defended an appeal from the district court's decision to deny the company's Motion to Compel Arbitration in the 8th Circuit Court of Appeals.  Also successfully defended against the company's Motion for Summary Judgment in the main breach of an employment contract case, which means that the court denied the company's motion to dismiss the case.
Harwell vs. Tousley Motorsports, Inc. Successfully defended against the company's Motion for Summary Judgment in this Minnesota Whistleblower Act wrongful termination case where the employee allegedly reported to his boss and the police that a co-worker had choked him during work hours.
Barnhart vs. Regions Hospital.  Successfully defended against the hospital's Motion for Summary Judgment against all four counts in this Minnesota Human Rights Act / Family and Medical Leave Act wrongful termination case, where the disabled, terminated employee had asked for, but was denied, reasonable accommodations after an FMLA leave.
Areas of Practice
Labor and Employment
Civil Rights
Litigation
Bar Admissions
Minnesota
Minnesota Court of Appeals
District of Minnesota
8th Circuit Court of Appeals
District of North Dakota
Education
University of St. Thomas School of Law, Minneapolis, Minnesota
University of Wisconsin – Madison, Madison, Wisconsin
Professional Associations and Memberships
National Employment Lawyers Association
Minnesota Association for Justice
Federal Bar Association