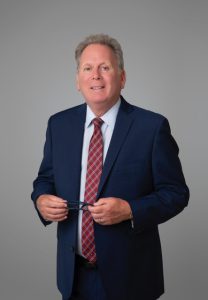 A talented, tireless litigator, Michael Johnson has achieved an enviable record of success in courtrooms across the country.
In over 40 years of practicing law, Michael has tried more than 1,000 cases and has represented a wide range of clients. He has a proven record of successfully litigating retaliation and discrimination cases involving age, disability, race, religion, sexual orientation, and gender. He's represented employees who faced hostile work environments, suffered sexual harassment, or experienced other illegal actions in the workplace. Licensed in Minnesota and Illinois, Michael has argued cases before the Illinois Court of Appeals, Illinois Supreme Court, and 7th Circuit Court of Appeals. He is also licensed to appear before the United States Supreme Court. Michael has served Of Counsel to Halunen Law since 2003.
Nationally, Michael has been involved in effectively litigating class actions involving the misclassification of employees as independent contractors and played a key role as a member of the litigation team that charged the first employment misclassification multidistrict litigation against one of the nation's largest package delivery services; In re FedEx Delivery Driver Litigation. The case took more than ten years to be resolved and concluded with negotiated settlements in excess of $450 million.
Michael's passion for justice and commitment to fighting for his clients are the foundation for his accomplishments. He doesn't back down from a challenge or start a fight he can't finish. As a child growing up on Chicago's north side, he learned that hard work was the key to success. His grandfather, a factory worker, impressed upon him that once you commit to something, you do everything necessary to follow through.  As a youth, he also observed that being Jewish meant many people he cared for in his community were subject to discrimination and hostility. From an early age, Michael embraced Dr. Martin Luther King Jr.'s teachings that all people should be judged, not by the color of their skin [or other innate characteristics] but by the quality of their character. He has spent his life fighting for the rights of others and helping people improve their station in life.
When he isn't in the courtroom fighting for his clients, Michael enjoys long morning walks, volunteering at a local nursing home with his dog Beau and spending time at his lake home in Northern Minnesota with his wife, Dawn.
"For over 40 years, I have dedicated my life to fighting for underdogs because the most vulnerable amongst us are often denied justice because they have no voice. I am their voice and will fight tirelessly to ensure their rights are protected and respected."