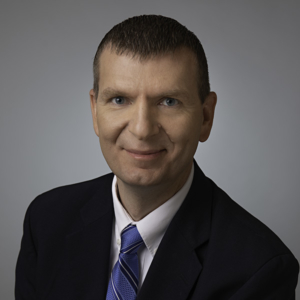 Halunen Law, a nationally known plaintiffs' law firm, is pleased to announce Lon R. Leavitt has joined the firm's False Claims Act practice group as a partner. An experienced and respected former Assistant United States Attorney, Leavitt has deep expertise with the False Claims Act. He has handled dozens of investigations and cases that collectively returned tens of millions of dollars to the United States government. Leavitt will be based in Halunen Law's new Phoenix office.
Leavitt joins Halunen Law after a successful 12-year tenure as an Assistant United States Attorney in the District of Arizona, one of the largest and busiest federal districts in the country. In that role, he managed False Claims Act investigations and litigation on behalf of the federal government in a wide range of fields, including health care, defense and education. Leavitt is especially knowledgeable in health care fraud enforcement, having pursued cases successfully against hospitals, hospices, physician groups, and other health care providers. For nearly 10 years, Leavitt also served as the Affirmative Civil Enforcement Coordinator and the Civil Health Care Fraud Coordinator for the District of Arizona. Before serving as a federal prosecutor in Arizona, Leavitt served as a Special Assistant United States Attorney in the District of Nevada, representing the federal government in civil fraud matters, criminal and civil asset forfeiture cases, and other civil litigation.
"Lon's vast experience as a prosecutor for the federal government is invaluable," said Clayton D. Halunen, managing partner. "We are delighted he is now part of our firm and our FCA practice group. We anticipate his experience and understanding of the government's approach to FCA litigation will help advance the causes we believe in so strongly—eliminating fraud against the government and supporting whistleblowers."
"The need for courageous whistleblowers to come forward—and their need for excellent representation and protection—has never been greater," said Leavitt. "Halunen Law is an outstanding group of top-flight litigators and professionals with a great approach to the practice of law and a proven track record of success. I am excited about this unique opportunity to expand the reach and resources of the firm's False Claims Act practice group and partner with them in the continued fight for justice on behalf of whistleblowers and the United States."
Leavitt has received several awards, recognitions and commendations for his work, including the United States Department of Health and Human Services Inspector General's Integrity Award. A frequent speaker at professional conferences, Leavitt has given numerous presentations and training sessions dealing with the False Claims Act, civil enforcement and health care fraud. Leavitt earned his law degree from the William S. Boyd School of Law at the University of Nevada Las Vegas and a bachelor's degree, summa cum laude, in Political Science and Spanish from Southern Utah University.
About Halunen Law
With offices in Minneapolis, Chicago and Phoenix, Halunen Law offers experienced legal representation to employees and whistleblowers across the country. Halunen Law has achieved a reputation as a fearless, tenacious and successful plaintiffs' law firm, with a laser focus on achieving justice for its clients as well as meaningful social change. The firm's False Claims Act practice group specializes in actions under the federal and state False Claims Acts and other whistleblower laws. For more information contact us.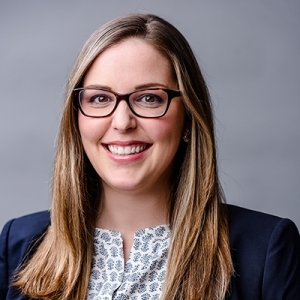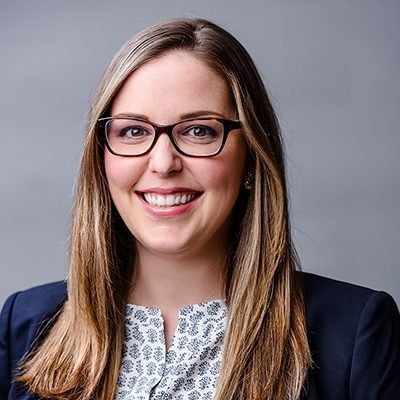 Halunen Law is pleased to announce partner and employment attorney Amy Boyle was elected as secretary for the Younger Lawyers Division (YLD) of the Federal Bar Association (FBA). She has served as a board member for the YLD for the past three years. An integral division of the FBA, the YLD promotes professional advancement and networking opportunities for attorneys from across the county. It also holds the annual Thurgood Marshall Memorial Moot Court Competition, a Rising Professionals Symposium, Summer Law Clerk programs and many other activities. The YLD board sets the agenda for the organization, and provides a leadership path for board members to serve on the FBA National Board in the future.  Congratulations Amy!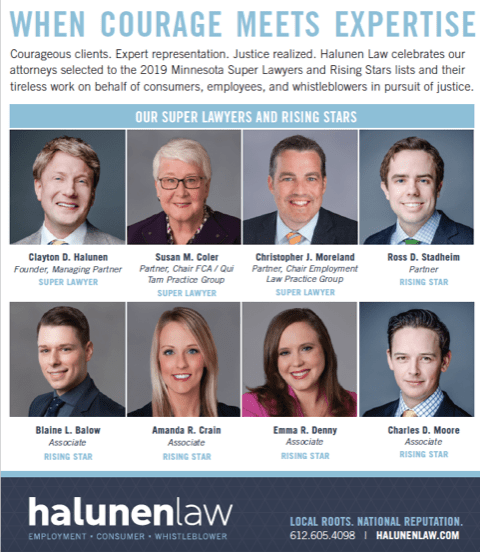 Halunen Law is pleased to announce founder and managing partner Clayton Halunen was selected to the Minnesota Super Lawyers list for the 17th consecutive year. An impressive team of Halunen Law colleagues joins him on the 2019 Super Lawyer and Rising Stars list; recognized by their peers for outstanding work representing employees, whistleblowers and consumers locally and across the country.
"I am incredibly proud of our group," said Clayton Halunen. "We are tireless, determined, tenacious in the pursuit of justice on behalf of our clients. Our dedication and expertise have resulted in a proven track record and a strong reputation as a plaintiffs' law firm both locally and nationwide. To have our work consistently recognized by our peers is tremendously gratifying and spurs us on in our continued fight for the rights of employees, whistleblowers, and consumers and making a difference in the lives of those we represent."
In addition to Clayton Halunen here is a list of the Halunen Law 2019 honorees:
Susan Coler:  Halunen Law partner is especially proud of Susan Coler, partner and chair of the False Claims Act/Whistleblower practice group, who was selected to the Super Lawyers list and the list of 50 Top Women Super Lawyers. She represents whistleblowers across the United States in areas including procurement, defense, small business, health care and pharmaceutical FCA cases. As a Labor and Employment Law Specialist, Susan has brought successful retaliation claims in connection with False Claims Act (FCA) /qui tam cases and as stand-alone actions. Susan represented a relator in an FCA claim against Abbott Laboratories that resulted in a civil settlement of $800 million (total settlement of $1.5 billion), the fifth largest civil healthcare recovery ever achieved under the FCA.
Christopher Moreland: Partner and head of Halunen Law's Employment and Appellate Practice Groups, with more than 20 years of experience advocating on behalf of injured railroad workers and other victims of corporate misconduct, Chris adds significant bench strength to the firm's employment team. His national practice includes substantial verdicts for his clients in state and federal courts across the country, as well as a significant appellate practice.
Ross Stadheim: Ross is a partner and employment attorney, and was selected to the Rising Stars list for the sixth consecutive year. Ross has garnered more than $26 million in settlements and verdicts for his clients during his time at Halunen Law. Of the 119 cases he has had in his seven years with the firm, all but four have resulted in recovery—a 96% success rate.
Amanda Crain: Employment attorney Amanda was also selected as a Rising Star for a sixth consecutive year. After years of working in family law, Amanda came to Halunen Law with an astute understanding of client emotional trauma, conflict, and complex legal matters. Her skill and compassion well serve employees facing wrongful termination, discrimination, harassment, or other illegal workplace practices.
Emma Denny: Selected to the Rising Stars list for her fourth consecutive year, Emma is a tireless, tenacious employment attorney. She has successfully litigated cases in state and federal court and negotiated favorable resolutions for clients facing discrimination, whistleblower, harassment, FMLA, ERISA, disability and religious accommodation, and a host of other disputes.
Charles Moore: A steadfast champion of consumer rights, attorney Charles has been selected to the Rising Stars list for the third consecutive year. In pursuit of ending deceptive corporate business practices and creating a fair and honest marketplace, his work involves investigations into consumer products, financial scams, and pharmaceuticals.
Blaine Balow: Blaine was selected for the first time this year to the Rising Stars list. After practicing family law for four years he joined Halunen Law as an employment attorney. An analytic thinker with unsurpassed negotiation skills, Blaine brings extensive ligation experience in defense of employees challenging illegal workplace activity.
ABOUT SUPER LAWYERS: Super Lawyers is a rating service of outstanding lawyers from around the country and more than 70 practice areas who have attained a high-degree of peer recognition and professional achievement. The selection process includes independent research, peer nominations and peer evaluations. The Super Lawyers list represents just 5% of Minnesota attorneys, and the Rising Stars list recognizes only 2.5% of attorneys 40 years old or younger or in practice for ten years or less.
ABOUT HALUNEN LAW: Halunen Law offers expertise in litigating employment cases on behalf of individual employees, consumer class actions and whistleblower cases under the False Claims Act and other statutes. With offices in Minneapolis and Chicago, Halunen Law has achieved a reputation as a fearless, tenacious and successful plaintiffs' law firm, with a laser focus on achieving justice for its clients while creating meaningful social change.