Clayton D. Halunen
Managing Partner
Phone: 612-605-4098
866-523-8533 (Toll Free)
Fax: 612-605-4099
Email: halunen@halunenlaw.com
Clayton Halunen is the founder and managing partner of Halunen Law and represents people injured by the negligent, wrongful, or fraudulent conduct of others. From employment litigation to consumer class actions and whistleblower advocacy, Clayton has achieved a national reputation for his zealous advocacy while delivering justice to his clients and creating meaningful social change.
Since founding Halunen Law in 1998, Clayton has been instrumental in obtaining recoveries in cases in excess of $2.5 billion. He has achieved considerable success taking on corporations who engage in fraudulent and unethical conduct. It is Clayton's belief that only by holding corporations accountable for their misconduct will positive change ever be realized.  Although a very rare occurrence, Clayton has been involved in several cases where corporate executives were criminally prosecuted because of evidence brought to light by one of his clients relating to corporate fraud. Clayton's belief is that every client deserves a zealous advocate for their attorney—someone who will leave no stone unturned until the truth is found. Uncompromising and tenacious are words often used in describing Clayton's litigation strategy.
Clayton's passion for his work took root early while growing up in northern Minnesota.  He observed both of his parents experience discrimination in the workplace and the impact it had on their lives.  These experiences fueled his determination to fight for underdogs—people who often have no voice. To fight for decency, respect, and basic human rights.
After more than 25 years of practice, Clayton has successfully tried to verdict employee discrimination, harassment, and whistleblower cases. He has litigated and won countless high-profile cases that have changed corporate practices to the benefit of employees, consumers, and shareholders while garnering substantial awards and settlements for his clients.
Of particular interest to Clayton have been cases against pharmaceutical and medical device companies—representing whistleblowers in cases involving fraud. He has taken on some of the largest corporations in the United States.  His clients have included   senior-level managers, scientists, engineers, sales representatives, quality assurance personnel, and regulatory affairs and compliance professionals.  Clayton often begins working with clients before they are terminated from employment—providing guidance to navigate through complexities of making protected whistleblower reports.  Clayton has represented clients in whistleblower cases involving illegal kickbacks, off-label sales, bribery, FDA fraud, financial fraud, product testing and quality non-compliance, violations of product safety regulations, sale of defective products, consumer fraud, and deceptive trade practices. In such instances, Clayton's expertise often leads to resolutions prior to time consuming and expensive litigation.
Widely respected for his success, Clayton has been the recipient of numerous prestigious honors and awards, acknowledging his professional acumen and advocacy. In 2018, as a recipient of the Minneapolis/St. Paul Business Journal's Business of Pride Award, Clayton was recognized for his leadership within the LGBTQ and business communities. He was named one of the Attorneys of the Year by Minnesota Lawyer in 2014 and 2017 and has been selected to the Minnesota Super Lawyers list for 15 consecutive years. Clayton's cases have been highlighted by an array of media sources such as the New York Times, MSNBC, NBC, ABC, and CBS affiliates, local, and national radio talk shows, and numerous legal periodicals.  One of his cases was the basis of an episode of CBS's Whistleblower series.  Clayton has been featured in publications and articles including, "A Whistleblower's Best Friend" in the 2015 August issue of Super Lawyers Magazine. He is Lead Counsel-rated and was inducted into the Million Dollar Advocates Forum. Clayton is a frequent speaker at seminars and conferences across the county, sharing insights on his specialized practice, strategies, and success.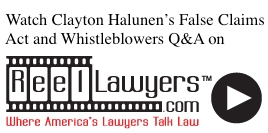 Significant Cases
In 2012, Clayton was counsel for a whistleblower in one of the largest qui tam settlements against a drug company—$1.5 billion. The case against Abbot Labs involved several whistleblowers who spoke out against the promotion of the prescription drug Depakote for uses that had not been approved by the FDA. The company was accused of marketing the drug "off-label," including for nursing home-patients, persons with schizophrenia, as well as for children, and providing kickbacks to medical providers who prescribed the medication.
In the fall of 2013, Halunen represented Heidi Weber, former dean of the Globe University Minnesota Medical Assistant Program. Weber alleged that the for-profit university had dismissed her for exposing unlawful and unethical practices at the school, including consumer fraud. Halunen obtained a judgment for Weber in excess of $1 million. His efforts were followed up by the Minnesota Attorney General's office, which subsequently brought a consumer fraud lawsuit against the school.  The school was shuttered after a judge found that it engaged in fraudulent and deceptive practices.  The case was featured on the CBS television series Whistleblower in the fall of 2018.
Halunen's representation of professional football player Chris Kluwe, a player for the Minnesota Vilkings, during the team's investigation of Kluwe's allegations of homophobic comments by a Vikings coach in 2014, was instrumental in achieving a historic settlement advancing LGBT rights in professional sports. As a result of the case, the Vikings organization agreed to make substantial contributions to several local and national LGBT-related organizations and host the first-ever professional sports LGBT summit. The event brought together gay athletes and advocates with sports management representatives and others for day-long event and panel discussions on creating greater inclusivity in sports at all levels.
In 2017, Halunen represented Lt. Elisa Umpierre in a $1 million settlement against the Rochester Minnesota Police Department. The suit alleged discrimination and retaliation against Lt. Umpierre after she expressed on Facebook her support of the Standing Rock protesters and criticized excessive force by police at the protests.
Also, in 2017, Halunen played a pivotal role with a team of attorneys who successfully represented James Friedlander in a whistleblower case heard by the Minnesota Supreme Court. The case clarified Minnesota legislative policy that a "good faith" report essentially must be truthful, creating a clearer path for whistleblowers to make their claims, while holding employers accountable for illegal conduct and preventing them from relying on technicalities to escape liability.
Clayton is currently acting as co-lead counsel, along with nationally renowned trial lawyer Mark Lanier, in a substantial government fraud case against Hoffman-La Roche. The claim alleges fraud relating to the sale of its drug Tamiflu to the United States government for stockpiling during the nation's influenza pandemic preparations in the mid-2000s.  The suit asserts that U.S.   taxpayers were bilked over $1.5 billion by the company for a drug that did not provide any pandemic benefits such as protecting against complications, hospitalizations, and transmission.
Areas of Practice
False Claims Act ("qui tam") Litigation
Employment Litigation
Whistleblower Litigation
Retaliation in Employment
Executive and High Level Severance Workouts
Consumer Fraud
Products Liability
Class Action/Mass Torts
International Whistleblower Representation
Bar Admissions
Education
Hamline University School of Law, St. Paul, Minnesota
North Dakota State University, Fargo, North Dakota
Honors and Awards
2018: Halunen and his client Heidi Weber were featured in CBS television series Whistleblower.  "The Case Against Globe University" episode had more than 2 million viewers and brought national attention to this important case.
2018: Halunen received a Business of Pride Award from Minneapolis/St. Paul Business Journal for his professional accomplishments and advocacy on behalf of the LGBT community.
2017: Minnesota Lawyer selected Halunen as one of the Attorneys of the Year for his work on the whistleblower case heard by the Minnesota Supreme Court which ultimately changed Minnesota legislative policy.
2016: Halunen was named Minnesota Attorney of the Month by Attorney at Law Magazine in October. He was featured on the cover of the magazine and interviewed for a four-page editorial about his career in law.
2013-2015: Halunen was recognized as "Lead Counsel Rated" by the Lead Counsel Review Board.
2014: Halunen was named one of Minnesota Lawyers' "Attorneys of the Year" for his advocacy of LGBT rights in the NFL.
2014: Halunen received the distinction of being named to the "Top 100 Trial Lawyers" from The National Trial Lawyers.
Halunen has also been selected to the Minnesota Super Lawyer list by Super Lawyer Magazine consecutively since 2003.
Professional Associations and Memberships
Minnesota State Bar Association
Federal Bar Association- Board Member
National Employment Lawyers Association, Member
Minnesota Trial Lawyers Association