Clayton D. Halunen
Managing Partner
Phone: 612-605-4098
866-523-8533 (Toll Free)
Fax: 612-605-4099
Email: halunen@halunenlaw.com
Clayton Halunen is the founder of Halunen Law, a law firm that represents employees, consumers, and whistleblowers in individual and class actions. Under his leadership, Halunen Law has achieved a reputation as a fearless, tenacious and successful plaintiffs' law firm, with a laser focus on achieving justice for its clients as well as meaningful social change.
Halunen's passion for the work took root early in his life when his family experienced the repercussions of discrimination against each of his parents. Those experiences fueled his determination both to assure that all people are treated with decency and respect for their human rights and to hold businesses accountable for illegal conduct.
Halunen has successfully tried to verdict discrimination, harassment and whistleblower cases. He has obtained millions of dollars for his clients in awards and settlements, including a recent million-dollar whistleblower case on behalf of a terminated administrator against a local for-profit college, one of the largest verdicts in Minnesota history in a single plaintiff age and workers' compensation retaliation case, and many six and seven-figure settlements. His representation of Vikings punter, Chris Kluwe, during the team's investigation of Kluwe's allegations of homophobic comments by a Vikings coach, was instrumental in achieving a historic settlement advancing GLBT rights in professional sports. Halunen represented one of the relators in a $1.5 billion settlement against Abbott Labs for off-label sales in violation of the False Claims Act. On a national level, Clayton has gained recognition for his work in the areas of defective products, food, drug, and supplement mislabeling, and consumer fraud class action litigation. He has served in leadership positions in a number of prominent nationwide class actions.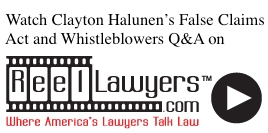 Halunen is a frequent lecturer and has been recognized as a "SuperLawyer" every year since 2003. Clayton was recognized as a Minnesota Lawyer of the Year in 2014 for his work on the Kluwe case and again in 2017 for his work expanding protections for whistleblowers in the Friedlander case.
Says Halunen, "I am so fortunate to do this work every day with courageous clients and a team of the most capable and dedicated motivated attorneys and staff whose talent and perseverance have resulted in exceptional outcomes for our clients."
Areas of Practice
False Claims Act ("qui tam") Litigation
Employment Litigation
Whistleblower Litigation
Retaliation in Employment
Executive and High Level Severance Workouts
Consumer Fraud
Products Liability
Class Action/Mass Torts
International Whistleblower Representation
Bar Admissions
Education
Hamline University School of Law, St. Paul, Minnesota
North Dakota State University, Fargo, North Dakota
Honors and Awards
Superlawyer, Minnesota Law and Politics and Minneapolis/St. Paul Magazine, 2003 – 2017
Minnesota Lawyer Attorney of the Year, 2014
Minnesota Lawyer Attorney of the Year, 2017
Professional Associations and Memberships
Minnesota State Bar Association
Federal Bar Association- Board Member
National Employment Lawyers Association, Member
Minnesota Trial Lawyers Association