How Can I Protect Myself as a Pregnant Worker During the COVID-19 Pandemic?
December 14th, 2020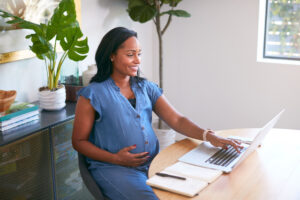 In the midst of the COVID-19 pandemic, pregnant women face new challenges—changes to in-person doctor visits, baby shower cancellations due to social-distancing, and rigid guidelines for keeping themselves and their newborns safe after birth. These changes have brought anxiety, disappointment, and sadness for many new mothers. Moreover, the crisis may add an additional layer of uncertainty for pregnant employees concerned about safely protecting themselves in the workplace.
Based on current information, the Center for Disease Control and Prevention and Minnesota Department of Health suggest that pregnant women might have a greater risk for severe illness from COVID-19 compared to non-pregnant individuals. And, pregnant women with COVID-19 may have greater risk of pregnancy complications, such as preterm birth. More than ever, the CDC and the MDH recommend that pregnant women protect themselves against getting sick, which includes staying at home as much as possible. It is now as important as ever for pregnant women to protect themselves in the workplace.
Can I Request A Workplace Accommodation?
If an accommodation is necessary because of a pregnancy-related impairment that substantially limits a major life activity (such as gestational diabetes) an employee may request a reasonable accommodation in the workplace under the Americans with Disabilities Act and the Minnesota Human Rights Act.  A pregnant employee may also request a reasonable workplace accommodation as advised by her licensed health care provider or certified doula. Examples of requests for accommodations may include avoiding contact with the public, additional protective equipment, an isolated workplace, or working from home. An employer may only deny a request for a reasonable accommodation, if the accommodation would cause undue hardship for the employer.
Even if you are not suffering from a pregnancy-related impairment, employers must treat a pregnant employee the same as any other employee.  If, for example, an employer is allowing other non-pregnant employees to work from home or avoid contact with customers, the employer must treat a pregnant employee the same way. Moreover, under Governor Walz's current Stay-at-Home Order, if an employee can work from home, the employee must do so. As a pregnant employee, if you can effectively perform your job at home, you must be permitted to do so and cannot be required to return to work at your employer's physical location. If your employer has directed you to work in violation of an Executive Order, you have a right to inform your employer that its requirement is a violation of the law.
Can My Employer Retaliate Against Me For Requesting An Accommodation?
Under state and federal laws, an employer cannot retaliate or punish an employee for requesting or taking an accommodation. Similarly, federal and state law prohibits an employer from retaliating against an employee who discloses her pregnancy and prohibits an employer from treating a pregnant worker differently from other workers due to her pregnancy.
As pregnant women face heightened precautions during the COVID-19 pandemic, it is important to know your rights. If you believe that you have been discriminated or retaliated against by your employer due to your pregnancy or request for a reasonable accommodation, contact Halunen Law and speak with one of our experienced employment law attorneys today.