Covid-19 Creates Opportunity to Rethink Virus-Monitoring Strategies
March 5th, 2020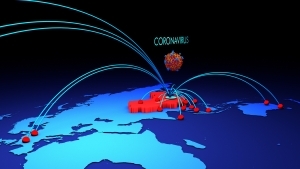 The worldwide spread of Covid-19 coronavirus presents an opportunity to rethink the way respiratory viruses are monitored in order to better understand how they spread, epidemiologist and Cochrane researcher Dr. Tom Jefferson writes in a new blog post for the BMJ journal.
Dr. Jefferson is an internationally respected epidemiologist who is the Relator in a False Claims Act lawsuit that seeks to expose fraud in connection with pandemic planning. He is represented by whistleblower attorneys from the Lanier Law Firm and Halunen Law. The litigation against Roche, an international pharmaceutical company, charges that the drugmaker exaggerated the effectiveness of its popular antiviral Tamiflu to the U.S. government, which spent billions of dollars to stockpile Tamiflu in response to a feared "Avian flu" pandemic.
In "Covid 19 – We live in surreal times," Dr. Jefferson references challenges faced by researchers during the Spanish influenza of 1918-19 and describes how efforts to understand a virus's movements are often hampered by incomplete information.
He writes:
"This may be the most important legacy of the Covid 19 outbreak: the realisation that we need an international effort to document the outbreak, its history and evolution… This effort needs to continue long after the outbreak is over and could be an ideal project for a global donor that wants to diversify its donations. Diaries, interviews, articles, multimedia records curated and indexed could finally help us understand a bit more about respiratory viruses, their ecology and how they ultimately cease being a menace."