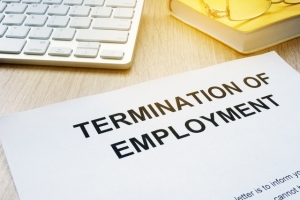 You've just been fired, or you suspect you're about to be fired. And you think that your termination may be for an illegal reason (e.g., discrimination, retaliation, blowing the whistle). Now what?
1. Do Not Quit / Do Not Sign Anything. Most workers who suspect termination is imminent often believe it is better to quit than be fired. But depending on the circumstances, that might not be true. Voluntarily leaving your position before your employer takes any adverse employment action against you (e.g., a termination), could weaken your ability to make an employment claim. Often it is wiser to continue to do your job well, which means that your employer will have to terminate you to make you leave. However, there could be extenuating circumstances that would warrant a different decision. If you are tempted to quit your job, it would be wise to contact an employment attorney before quitting to discuss your particular situation and your options.
At your termination meeting, your employer may present you with a document called a separation or severance agreement, potentially with an offer of some amount of money. Again, the wise thing to do is to consult with an attorney before signing anything. If you signed this document already and are having second thoughts, you should immediately contact an employment attorney to review the agreement on your behalf. If you act quickly enough, you may be able to rescind your agreement.