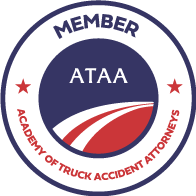 If you or a loved one has been injured in a commercial trucking accident, your life may be changed forever. Our Minneapolis truck accident lawyers at Halunen Law will get you the monetary compensation necessary to help you get your life back, and get you the justice you deserve.
Halunen Law is dedicated to helping people across Minnesota who has been injured in a commercial trucking accident. Our experienced personal injury attorneys have gotten millions of dollars in recoveries for our clients.
When truck accidents occur, the trucking company and its insurance carrier often send representatives to the accident scene to confront victims while they are traumatized and vulnerable.
It is common for large trucking companies to have their own investigators and attorneys who immediately begin working to limit or mitigate the trucking company's liability. By working with experienced personal injury lawyers at Halunen Law, truck accident victims can trust that their rights and interests are protected.
Types of Truck Accidents
The most common type of truck accident is truck rollovers, which occur when a driver loses control of the vehicle and the truck begins to slide sideways and jackknifes. Other types of accidents also include collisions involving delivery trucks, busses, passenger vans, emergency vehicles such as fire trucks, utility trucks, 18 wheelers, SUVs, and tractor-trailers.
I Was Injured in a Truck Accident. What Should I Do?
Your health and safety come first, and your first step should be to report the accident and see a doctor immediately. It is necessary for a doctor to examine you to make sure you are appropriately diagnosed.
Keep in mind that not all injuries are painful, and may worsen over time. Some of the most serious types, like traumatic brain injuries (TBIs), may not have any initial symptoms.
The most important action you can take after seeing a doctor is to contact an attorney. We will help ensure you get the help you need in order to receive justice and compensation for your injuries. It can be very difficult to know who or what caused a truck accident.
Accidents involving trucks are frequently investigated by the Federal Highway Transportation Safety Administration (FHTSA). Without knowing the cause and who is at fault, you cannot pursue compensation for injuries and damages you have experienced. We can help you determine where the responsibility for the accident lies.
Our experienced truck accident attorneys know how complicated accident investigations can be. In addition, it is possible for multiple parties to be at fault for the accident.
Each party may be insured with different insurance companies, which may have different policies and provisions. This can be intimidating and overwhelming. Our experienced injury attorneys can sort through the insurance complications, and negotiate the best settlement possible.
Pursuing a Truck Accident Lawsuit
It's important to have a personal injury lawyer who is experienced in handling truck accidents. There are different issues and considerations when investigating and pursuing a truck accident lawsuit. Some of these considerations often require engineering or accident reconstruction experts, and can include:
Detailed accident site inspection, including measurements of skid marks, impact points, and roadway dimensions.
Obtaining and evaluating logbooks and global positioning (GPS) data,
Analyzing the black box or engine control module to determine the driver's action immediately preceding the accident.
Common Injuries Resulting From a Truck Accident
Collapsed lungs and other serious injuries to internal organs.
Fractures to shoulders, arms, legs, and other body parts.
Catastrophic bodily and head injury causing wrongful death.
Immobilization and paraplegia.
Traumatic Brain Injury and "Mild" Traumatic Brain Injury.
Trauma to the spine causing cervical, thoracic, and lumbar herniated discs.
Broken hip and pelvis requiring emergency surgery and placement.
Severe emotional distress, anxiety, and post-traumatic stress disorder.
Disfigurement, scarring, and permanent disability.
Economic Losses After a Trucking Accident
The aftermath of a serious truck accident often causes difficult financial burdens and adds unexpected financial stress to the lives of the accident victims and their families.
In addition, time away from work for recovery can result in loss of income while medical bills pile up. Although insurance might cover some medical expenses, severe accidents result in significant medical costs. The total cost can easily reach six figures, sometimes seven figures in the most extreme cases. Common medical expenses include:
Ambulance services
Emergency room visit
Hospitalization
Diagnostic testing and X-rays
Surgery and all associated costs
Prescription pain medication
Doctor services, including follow-up visits
Physical therapy and other rehabilitation expenses
Travel to and from the doctor
Less obvious expenses may include the cost of modifying your home to increase accessibility; the cost of adding ramps or handrails and replacing domestic services such as lawn care and cleaning.
Some catastrophic truck accident injuries require lifelong care. If your loved one is in a permanent vegetative state, has permanent paralysis of some or all of the body, or has suffered a mentally incapacitating injury, the chances of a full recovery are slim.
In these situations, an experienced personal injury attorney will gather expert analysis and testimony concerning the costs of required long-term care and the value of lost future wages. Not only does a catastrophic injury increase future medical costs, but it likely means the injured victim will be unable to partially or fully return to gainful employment.
Non-Economic Damages Caused By a Trucking Accident
Severe trucking accidents can cause stress and difficulties in all aspects of a victim's life. In addition to the financial challenges of an accident, victims must deal with the ongoing physical pain of injury and recovery, as well as changes in their personal relationships and quality of life.
When our attorneys evaluate your claim, he or she will consider the non-economic damages you have suffered, which can result in additional compensation. These damages include:
Loss in quality of life
Physical pain and suffering
Mental anguish
Loss of consortium with a spouse
Scarring and disfigurement
You should also be aware of policy limits. When you are involved in an accident, the at-fault driver's insurance policy and the insurance carrier will play a big role in the value of your claim. If you or your loved one has suffered injuries in a commercial truck accident, your attorney will likely seek full compensation up to the at-fault driver's auto insurance policy limits, at the very minimum.
We are here to be your voice – contact Halunen Law today
We understand you may have questions, and we know how injuries can profoundly impact a person's life.
Personal injury attorneys and Halunen Law partners Brian Stofferahn and Chris Moreland bring more than 50 collective years of successful litigation experience on behalf of those who are wrongfully injured.
Brian Stofferahn co-authored "Accidents Involving Motorcycles, Buses, Rental Cars and Other Specialized Vehicles," which is in the recently revised Minnesota Motor Vehicle Accident Deskbook.
Brian's deep expertise and personable approach set him apart in the field of personal injury law.  Contact Halunen Law today for a free consultation.
As your attorneys, we can also help you recover compensation against any at-fault driver for wage loss and medical expenses, as well as for pain, suffering, and disability. Halunen Law Attorneys work on a contingency basis. This means there are no up-front costs to you, and our attorneys are only paid when we win money damages for you or your loved one.
The experienced attorneys of Halunen Law take pride in fighting for their clients each step of the way. We'll help you get the justice you deserve.  Contact us today.