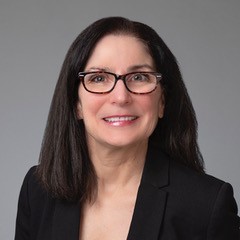 A highly accomplished employment attorney, Pamela Spera has represented clients challenging many of Minnesota's largest employers.
In her more than 25 years of practice, Pamela has litigated countless employment law cases. She has attained favorable judicial rulings and settlements and brought meaningful outcomes for her clients, including a high-dollar six-figure settlement in a sexual harassment case, among others.
Confidently expressing her opinions and fighting for what is right comes naturally to Pamela. Those traits have been the foundation of her record of success in state and federal district court and appeals to the Minnesota Court of Appeals and Minnesota Supreme Court—setting an impressive standard for exceptional representation.
Pamela's experience in employment law is deep and well-rounded.  Her primary focus is representing employees who have experienced illegal treatment in the workplace, and she brings commanding representation to each case. Pamela has also practiced employment law in an advisory role as in-house counsel for a large, multi-national educational network. Pamela's work ensuring compliance with federal and state labor and employment laws and her insights into the employer's side of employment issues help her anticipate and defeat defense arguments.
In addition to practicing law, Pamela is an adjunct professor at Mitchell Hamline School of Law, where she teaches Appellate Advocacy, with an employment law focus. Pamela's coursework allows her to share with her students her knowledge of employment law and to maintain a keen understanding of current national employment-law trends.
Pamela is committed to putting her skills and knowledge to work defending those who've experienced an injustice. She cites her diverse educational background, including an undergraduate science degree and Masters in English, as central to her successful legal career. Her strong analytical skills, extensive writing experience, and depth of understanding across wide-ranging disciplines serve her clients well.
A New Jersey native, Pamela is the mother of three daughters and has called Minnesota home for more than 20 years. Pamela is also a dedicated volunteer in her community. She worked as a safety project attorney for Tubman and in the organization's employment law clinic. Pamela also served on the City of Eden Prairie's Human Rights and Diversity Commission for nine years, and she now serves as Chair of Eden Prairie's Heritage Preservation Commission.