What Are My Rights as a Parent During the COVID-19 Pandemic?
December 11th, 2020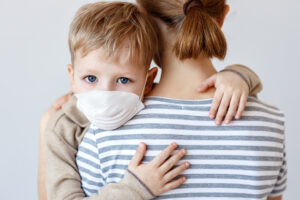 Due to the COVID-19 pandemic, many working parents have been placed between a rock and a hard place. With many day cares and schools closed to in-person learning, parents who work are scrambling to find ways to make sure their children are learning and being cared for at home, while still doing their job. Unfortunately, not all employers have been sympathetic and accommodating of these competing demands. But, there are laws in place in Minnesota protecting the rights of parents in the workplace.
The Minnesota Human Rights Act prohibits discrimination by employers on the basis of 'familial status,' meaning they cannot discriminate against employees due to their status as caretakers of minor children.[1]
The Minnesota Sick Leave Benefits Act requires employers to provide parents with time off to care for a sick or injured child on the same basis they would allow the employee to use that sick leave for the employee's own illness or injury.[2]
Minneapolis, Saint Paul and Duluth have city ordinances requiring employers to provide up to 80 hours paid sick leave to employees working in those cities, which includes time off to care for a sick child.
The Family Medical Leave Act requires employers who employ more than 50 employees to give their employees up to 12 weeks unpaid leave per year to care for a child with a serious medical condition (which can include COVID-19).
The Federal Families First Coronavirus Response Act (FFCRA) requires certain employers to provide employees with expanded family and medical leave for specified reasons related to COVID-19, such as caring for an individual subject to quarantine, or to care for a child whose school or child care provider is closed for reasons related to COVID-19.
The Minnesota Human Rights Act prohibits discrimination against employees who "associate" with a disabled person. Minn. Stat. § 363A.15. This can include parents who care for children with disabilities.
Governor Walz's Emergency Executive Order 20-99 continues to mandate that all employees who can work from home must do so.[3] It may be illegal for your employer to force you to come into work if you do not have to do so, or to retaliate against you for refusing to come into work in violation of this Order.
If you are an employee caring for a young child during these difficult times, you have rights and you have options. If you believe your employer is violating the laws protecting your rights as a parent in the workplace, you can take steps ensure your rights are protected. Contact Halunen Law to speak with an experienced employment law attorney today.
[1] Minn. Stat. § 363A.08, subd. 2.
[2] Minn. Stat. § 181.9413.
[3] Emergency Executive Order 20-99