From Cashiers To CEOS, Women In The Workplace Deserve To Be Heard
October 3rd, 2018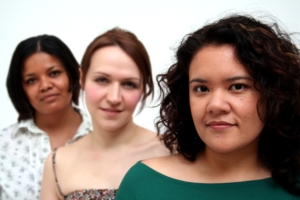 As an immigrant from Bangladesh, Eva Biswas was granted asylum in the United States to escape the persecution, terrorism, and sexual violence she experienced in her home country. But she found life in her new country brought unexpected challenges in the form of the alleged sexual harassment from her workplace supervisor at a national chain store. In her lawsuit, Ms. Biswas alleges her store manager propositioned her for sexual favors in exchange for a promotion. She claims that she told the other managers at her store what happened, but was told to keep it to herself and that she had "misunderstood" what her manager did because she didn't understand American culture.
Minimum wage employees, immigrants, and women of color – too often have their voices ignored when they report sexual harassment or other workplace misconduct to their employers. Although the #MeToo movement has shed much light on sexual harassment in the workplace and has made great strides towards ensuring that those committing sexual harassment in the workplace are held accountable, the experiences of women who belong to marginalized groups have too often been overlooked. There are many reasons why this happens, but it is likely that some employees do not understand their rights, do not feel they can afford a lawyer, or do not think lawyers will not be interested in what happened to them. However, all employees are entitled to equal protection of the law – from cashiers to CEOs; and attorneys who represent individuals like Ms. Biswas do want to hear their stories, and often work on a contingency basis, meaning that they do not get paid unless the case resolves successfully.
If you believe you have been sexually harassed at your workplace, contact Halunen Law to learn more about your rights in the workplace and how you can protect yourself.
Read a recent article in City Pages about Ms. Biswas' lawsuit: (http://www.citypages.com/news/target-employee-claims-sexual-harassment-and-that-management-didnt-stop-it/494286651)
Halunen Law employment attorney Emma Denny is representing Ms. Biswas. Ms. Denny has successfully litigated cases in state and federal court and negotiated favorable resolutions for clients facing discrimination, whistleblower, harassment, FMLA, ERISA, disability and religious accommodation, wage, retaliation, contract agreements and a host of other disputes.
Learn more about attorney Emma Denny.
(https://www.halunenlaw.com/our-team/emma-r-denny/)