Employees Take a Stand – Is Anxiety a Disability?
February 19th, 2014
The Americans with Disabilities Act (ADA) and the Minnesota Human Rights Act (MHRA) prohibit employers from discriminating against employees (or potential employees)with disabilities. In fact, these laws require employers to accommodate disabled employees if that will make it possible for the employee to continue working and does not create hardship for the employer. Under the ADA and MHRA, you have a right to reasonable accommodations if you are disabled. These may include: modified work schedules; acquisition of or modifications to equipment or devices; reassignment of nonessential functions of the job.
Sometimes the question whether you are disabled under the law is clear. If you are deaf or blind, if you have autism, cancer, diabetes, epilepsy, PTSD, or major depressive or anxiety disorders, or if you are bipolar or schizophrenic, you will almost always be considered disabled for the purposes of the ADA and MHRA.  But if you suffer from something like general anxiety, the question of whether you are disabled under the law is more complicated. It includes showing that your disability substantially impairs a major life activity. Major life activities, which can also be affected by anxiety, include, but are not limited to: caring for oneself, sleeping, concentrating, thinking, and communicating.
Last October (2013), a federal court in South Dakota, which is governed by the same federal laws as Minnesota, determined that an employee's anxiety over being fired was a disability under the ADA and , therefore, the employee was protected. The employee discussed her problems with her physician and he gave her a note stating that her anxiety substantially impaired her ability to maintain her nutritional needs, care for her children, and sleep. According to the National Institute of Mental Health, approximately 18% of Americans suffer from some form of anxiety in a given year. Proving that anxiety is a disability may not be easy, but the employee described above did the right thing by getting information from her doctor that she needed an accommodation. The more concrete employees are about their disabilities and about what accommodations would make it possible for them to continue working, the more likely it is that they will be protected under the law.
Written by Kaarin Nelson.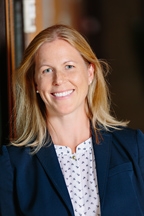 Kaarin S. Nelson is an attorney at Halunen Law. She represents employees facing all types of discrimination, including disability discrimination.