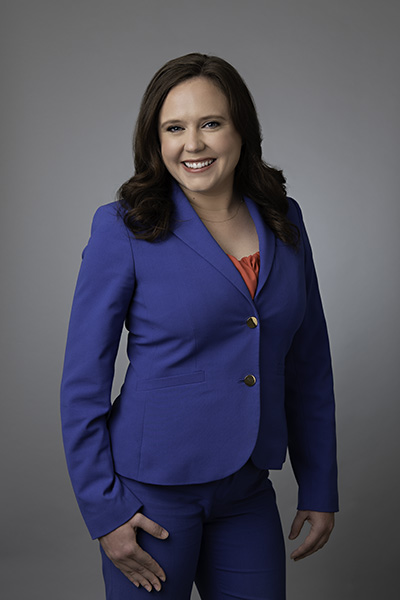 To many who watched Emma Denny grow up, it was no surprise that she became an attorney.
From an early age, Emma confronted authority while championing fair treatment of others. Fearless and with a bit of a rebellious streak, she frequently stood up to those she saw perpetrating injustice against others, at school and in her community. Those earliest experiences in a low-income, public school setting left lifelong impressions and guided her on the road ahead.
From her hometown of Tallahassee, Florida, Emma headed to New Orleans to study Economics and History at Tulane University. Hurricane Katrina struck at the start of her sophomore year, and the devastating storm altered her course of study. She graduated from college in three years and, drawing on her own experiences in the public school system, began working in New Orleans' charter school reform movement. Subsequently, a law career beckoned. She headed north to Minnesota to attend the University of Minnesota Law School, where she was close to extended family members, found a welcoming community, and thrived.
Emma's tireless work ethic, tenacious spirit, and fierce advocacy have guided her life and are central to her success. She is an experienced, tough employment attorney who is relentless in her pursuit of justice for clients who have been wronged by their employer. She has successfully litigated cases in state and federal court and has argued before the Eighth Circuit Court of Appeals. She has negotiated favorable resolutions for clients facing discrimination, whistleblower, harassment, FMLA, ERISA, disability and religious accommodation, wage, retaliation, contract agreements, and a host of other disputes. In her tenure at Halunen Law, Emma has recovered nearly $10 million in settlements for her clients.
Peers and other professionals alike have recognized Emma's expertise. She has been interviewed by Minnesota Public Radio and other media and has served on panels or conducted presentations at numerous legal education sessions. She has also been selected to the Super Lawyers Rising Star list consistently since 2016, and as one of the Top Women Attorneys in Minnesota. Emma serves as vice-chair of the MSBA Labor & Employment Section Governing Council for 2020-21. She also volunteers for the Tubman Pro Bono Safety Project as a volunteer lawyer representing low-income domestic violence victims.
Emma's competitive and energetic nature is alive and well outside the courtroom as well. Once an amateur boxer, she now participates in triathlons, enjoys a lively game of kickball, and spends most of her free time with her friends and family. She has also discovered that a warm coat makes Minnesota winters much more enjoyable.