Do You Have a Retaliation or Whistleblower Case?
You are a whistleblower if you know that something is not right in your workplace and you cannot stand by and let it happen.
You must take some action against corporate fraud, and that is what you do. Many times when individuals speak out against conduct they believe is unlawful, they are retaliated against by their employer – including termination.
Halunen Law is a leading national whistleblower law firm with a host of knowledgeable attorneys that provide a wealth of experience in protecting whistleblowers across the country, and if necessary, filing lawsuits on their behalf.
Speak with an Attorney today for a free consultation.

What does being a Whistleblower mean?
A whistleblower is an employee who reports misconduct by an employer. Importantly, there are laws that protect whistleblowers from being fired or mistreated for reporting misconduct and Halunen Law can help.
You may be a whistleblower in need of protection if you have:
Reported to your company that its conduct violates a state or federal law or regulation;

Reported to your company that it is treating you in a way that violates state or federal law or regulation;

Reported to an external agency that your company's conduct violates a state or federal law;

Made a claim against an entity under the False Claims Act or the IRS, SEC or CFTC whistleblower statutes;

Reported to an external agency that your employer is treating you in a way that violates state or federal law or regulation.

Refused to engage in illegal activities

Participated in an investigation 
---
What does Whistleblower Retaliation Look Like?
If you have witnessed or learned of something illegal at work and reported it, you may be experiencing retaliation or punishment, subtle or obvious, or you may be afraid that someone is planning to pay you back by firing or discrediting you.
Such situations can be extremely difficult to deal with, as they may involve your livelihood, your career, and your reputation. An employer can retaliate by:
Demoting you

Denying you benefits or opportunities

Giving you poor reviews

Threatening you or treating you abusively

Firing you
The good news is that numerous state and federal laws exist to protect whistleblowers from retaliation, whether they work for small or large companies or government agencies. At Halunen Law, our attorneys know the law, and they know how to deal decisively with illegal retaliation against those who speak the truth about an illegal or unethical activity.
---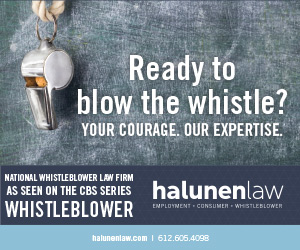 How to protect yourself
If you have witnessed or learned about something illegal at work either constituting corporate fraud or illegal discrimination against you or others and if, in conscience, you need to take action, it would be wise to consult with an employment attorney as soon as possible.
Before blowing the whistle

– If you come to us before reporting illegal conduct we can help minimize potential negative reactions and set you up to be protected under the law.
While you are employed – If you have already reported illegal conduct we can help you recognize whether retaliation has occurred and developed a plan to address it.

Before or after termination

– If termination is imminent or has already happened, we can use your whistleblower status to work out a severance, file a whistleblower lawsuit, or take other action on your behalf.


---
Whistleblower Severance
Sometimes planning an exit strategy through a proposed severance agreement is the best choice for whistleblowers. Sometimes a whistleblower has already been offered a severance agreement by an employer. The attorneys of Halunen Law provide skilled consultation and representation in both of these situations, particularly as they relate to severance agreements for executives and professionals. Whistleblowers can have substantial leverage in proposing an advantageous severance when companies want to avoid further liability. Careful structuring of the terms is important to maximize your leverage, protect yourself economically, and facilitate a smooth transition to the next step in your career. 
---
Whistleblower Protection Under State and Federal Laws
Many state and federal laws prohibit employers from retaliating against employees who report illegal conduct at work or refuse to engage in legal conduct. Some laws, like the Minnesota Whistleblower Act, are general and cover a wide range of conduct.  Other laws are more specific, such as the federal Occupational Health and Safety Act and many similar state statutes that prohibit retaliation against employees who report unsafe work conditions.  Sometimes employee whistleblower lawsuits allege violations of multiple laws.
Whistleblower statutes typically make retaliation illegal and allow employees to bring lawsuits if their employers have retaliated against them. While the statutes vary in the types of protection they offer, the remedies they offer usually include lost back pay and front pay, and emotional distress damages.
Whistleblower statutes also typically require the employer to pay attorneys' fees and costs for employees who are the victims of retaliation.   This may make it easier for you to seek representation because whistleblower attorneys like Halunen Law will take retaliation cases on a contingency basis, which means they get paid only if the employee is successful in the lawsuit.
Halunen Law has dealt with hundreds of retaliation cases under state and federal whistleblower laws and we can advise and represent you in even the most difficult employment situations. We have local roots and a national reputation for successfully representing whistleblowers.
Below are just a few examples of anti-retaliation laws that protect whistleblowers:
Minnesota Whistleblower Protection
The Minnesota Whistleblower Protection Act, statute § 181.932, protects workers who report in good faith a violation or suspected violation of law, or refuse to engage in what they believe is illegal conduct. The act is applicable to any employer doing business in Minnesota with more than one employee.
The Minnesota Whistleblower Protection Act also provides specific protections for employees working in the healthcare industry. Healthcare employees may be protected when they report situations in which public health is at risk because the standards of care are below those set by law or professionally recognized standards. In some situations, health care workers' observation of worthless services or unnecessary treatments being provided can give rise to a claim under the False Claims Act.
Halunen Laws Clayton Halunen was instrumental in a Minnesota Supreme Court case that clarified the law and clears the path for whistleblowers to put a stop to illegal conduct and still be protected. Contact the Minnesota Whistleblower attorneys of Halunen Law to discuss the situation you are facing.
Occupational Safety and Health Act (OSHA)
OSHA provides protections for employees and whistleblowers from being retaliated against after they have complained or reported to OSHA of unsafe working conditions, requested an OSHA inspection, reported a work-related injury or illness, or participated in as OSHA proceeding. Minnesota and other states, including California, also protect this conduct.
SOX protects employees who work for a publicly-traded company and have observed conduct that violates securities laws. In order to claim whistleblower status under this act, the whistleblower must make a report directly to the SEC. Our retaliation attorneys are available to help you navigate this process. They will also help ensure the steps you are taking will provide you the greatest whistleblower protections under the Sarbanes-Oxley Act.
Examples of whistleblower activities protected under SOX include:
Reporting an employer's failure to disclose accurate financial statements to potential investors

Reporting an employer's improper entries on financial statements

Exposing senior management's alteration of delinquency reports

Reporting an employer's use of an unregistered broker to solicit investors in exchange for a commission

Raising concerns about a supervisor's practice of backdating letters of credit

Committing other violations of the law and betraying the public trust
False Claims Act (FCA)
The False Claims Act provides a reward to employees (and others) who bring lawsuits challenging companies that commit fraud against the Government, such as Medicare fraud and defense contracting fraud. It also prohibits retaliation against whistleblowers and relief from the consequences of that retaliation including double back pay. Unlike many employment law firms, Halunen Law has a dedicated group of attorneys whose focus is representing clients under the False Claims Act. Our team can help you file a lawsuit that includes both an FCA and retaliation claim. 
---
According to the New England Journal of Medicine, whistleblowers are motivated by factors including "integrity," "string ethical standards," and concerns for public health and safety. If you tried to do the right thing and experienced retaliation, including termination, as a result, our firm's Minnesota and National whistleblower retaliation attorneys can help you understand your rights and options.
Contact the National whistleblower attorneys of Halunen Law. We have dealt with hundreds of retaliation cases, including those involving the Minnesota Whistleblower Act, and we can advise and represent you in even the most difficult employment matters. We have local roots with a national reputation for whistleblower protection.