Number One: Basics about Gender Discrimination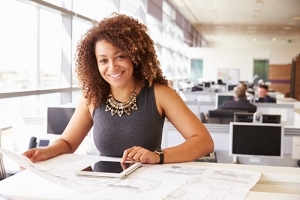 Employment in Minnesota is at-will, unless you are in a union or have an employment contract. What this means is that your employer can terminate you at any time, for any reason, even if that reason is unfair or untrue.
However, your employer cannot terminate you for an illegal reason. Examples of illegal reasons to terminate a woman include: because she is a woman, or because she gets pregnant or has children to care for. Of course, employers will hardly ever come out and say that this is the reason they're terminating someone. But it can often be deduced from all of the circumstances that the true reason for the termination is an illegal one. For example, a woman who has a strong performance history at her job tells her boss she's pregnant. Suddenly, her boss, who previously only had praise for her work, becomes hyper-critical, and starts writing her up for small, vague, or non-existent "performance problems," and then terminates her within weeks of her disclosing her pregnancy. This is considered evidence of pregnancy discrimination, and could potentially form the basis for a lawsuit. If you believe you are being discriminated against at work because of your sex, pregnancy, or another illegal reason, it's best to report that discrimination to a supervisor or Human Resources employee, in writing, to document your concerns. If that doesn't resolve your situation, consulting with an attorney can provide additional options.
Number Two: Basics about Sexual Harassment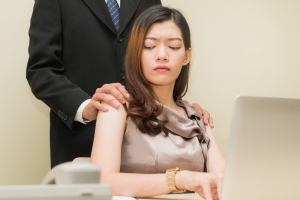 Harassment at work is illegal, but only if you are being targeted for harassment due to an illegal reason, such as your sex. Unfortunately, it's not illegal to be a jerk! Harassment is considered based on sex if it is sexual in nature, if the harassment includes gendered slurs, or if only women are being targeted for harassment.
To be illegal, sexual harassment must be "severe or pervasive." This typically means that the harassment must be frequent and repeated (pervasive). However, one severe incident, such as a sexual assault can trigger liability.
Examples of sexual harassment include repeated comments of a sexual nature, unwanted grabbing or touching, or repeatedly pursuing a romantic relationship with someone who is not interested and has made that clear. Illegal sexual harassment also includes termination or threats of termination if you don't engage in sexual relations with a person in a position of authority over you – this is known as "quid pro quo" sexual harassment.
If you believe you are being sexually harassed at work, you should tell the harasser to stop and report the conduct to a supervisor or Human Resources employee to document your concerns. Your employer then has an obligation to investigate your reports and take appropriate steps to end the harassment. If that doesn't resolve your situation, consulting with an attorney can provide additional options.
Follow this series as we share three more things every woman should know about employment law.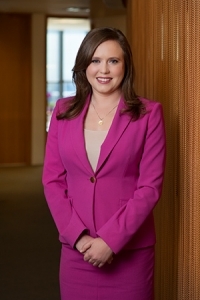 Emma Denny is an experienced, tough employment attorney, who is relentless in her pursuit of justice for clients who have been wronged by their employer. She has successfully litigated cases in state and federal court and negotiated favorable resolutions for clients facing discrimination, whistleblower, harassment, FMLA, ERISA, disability and religious accommodation, wage, retaliation, contract agreements and a host of other disputes.
Learn more about Halunen Law employment attorney Emma Denny.