Halunen Law attorneys selected to 2022 Super Lawyers and Rising Stars in Minnesota lists
July 18th, 2022
MINNEAPOLIS, Minn. (July 18, 2022) Haluen Law is pleased to announce that several of its attorneys were selected to the 2022 Minnesota Super Lawyers and Rising Stars lists, a distinguished acknowledgment by legal peers of fellow attorneys' outstanding work. The firm's consistent representation on these two prestigious lists reflects its deep expertise and record of successful outcomes in the Employment Law and False Claims Act/Whistleblowers practice areas. This year also marks the 20th consecutive year Halunen Law managing partner and founder Clayton Halunen has been selected to the venerated list. 
"On behalf of the firm, we are honored to be once again recognized by our peers for our work," said Clayton Halunen. "I am immensely proud of our team's steadfast commitment as we continue to defend employees' and whistleblowers' rights. We are a fearless and tenacious plaintiff's law firm — a reputation amply reflected in our consistent record of achieving meaningful results for those we represent. Our expertise is unparalleled, and we look forward to continuing the fight for what's right for many years to come."

In addition to Clayton Halunen, the list of Halunen Law lawyers who received Super Lawyers and Rising Stars recognition in Minnesota includes:
2022 SUPER LAWYERS: 
Susan Coler:  Selected to the Minnesota Super Lawyers list, Partner and False Claims Act (FCA)/Whistleblower attorney Susan Coler represents whistleblowers across the United States in FCA cases, challenging fraud and kickbacks related to government spending for procurement, defense, small business, health care, and pharmaceuticals. As a Labor and Employment Law Specialist, Susan has brought successful retaliation claims connected with FCA/qui tam cases and stand-alone actions. She is energized and inspired daily by the courage of whistleblowers and their efforts to combat corporate fraud.    
2022 RISING STARS: 

Blaine Balow: A partner with Halunen's Employment Law Practice Group, Blaine's extensive litigation, and negotiation experience make him a powerful advocate for his clients. Whether the case involves retaliation, discrimination, whistleblowing, sexual harassment, or an executive severance negotiation, Blaine never stops fighting for his clients as he pursues justice on their behalf.
Colin Pasterski: Colin's commitment to getting the details right and providing thorough, professional representation are critical factors in favorable case outcomes. His focus on fighting injustice and providing the highest level of legal service guides his daily work on behalf of courageous employees and whistleblowers.
Colin was also interviewed as a part of the Rising Stars Spotlight piece discussing his views on the future of the law over the next 30 years. Read the full story.

Nathaniel Smith: Having recovered millions on behalf of whistleblowers in both employment retaliation cases and qui tam whistleblower lawsuits under the False Claims Act (FCA), Nathaniel is relentless in his pursuit. He has represented whistleblowers in complex healthcare fraud, pharmaceutical fraud, defense contracting fraud, and small business fraud cases. FCA cases require a deep understanding of different areas of the law and complex government agencies. Nathaniel rises to the challenge of putting all the pieces together to achieve positive results.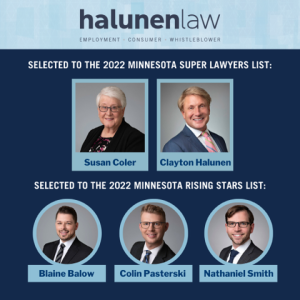 ABOUT HALUNEN LAW: With offices in Minneapolis, Chicago, and Phoenix, Halunen Law offers experienced legal representation to employees, whistleblowers, and fraud against the government. Halunen Law has achieved a reputation as a fearless, tenacious, and successful plaintiffs' law firm with a laser focus on achieving justice for its clients. For more information, visit halunenlaw.com. 
ABOUT SUPER LAWYERS: Super Lawyers is a rating service of outstanding lawyers from around the country who have attained a high degree of peer recognition and professional achievement. The selection process includes independent research, peer nominations, and peer evaluations. The Super Lawyers list represents just 5% of Minnesota attorneys, and the Rising Stars list recognizes only 2.5% of lawyers 40 years old or younger or in practice for ten years or less. For more information, visit https://www.superlawyers.com.