Riding a bike is one of life's simple pleasures. It's fun, practical, and healthy. It can also be fraught with peril. Cyclists share the road with cars, trucks, buses, and other vehicles, but all too often, drivers fail to see or accommodate cyclists or don't follow rules of the road that are designed to keep cyclists safe.
Even when wearing a helmet and safety gear, bike riders remain exposed and vulnerable and are no match for the speed and size of a motor vehicle. When drivers and cyclists collide or poorly maintained roads or paths lead to crashes and spills, the results are often catastrophic.
At Halunen Law, our personal injury attorneys have seen the devastation left in the wake of bicycle accidents caused by someone else's negligence or irresponsible conduct. We understand how quickly a pleasant ride can turn into an ongoing nightmare of injury, pain, and loss. We also know how important it is for injured cyclists and their families to get the compensation that can help them recover and get back to their lives. That's why our Minneapolis bicycle accident lawyers fight tirelessly to hold negligent drivers and others to account for the damage they cause.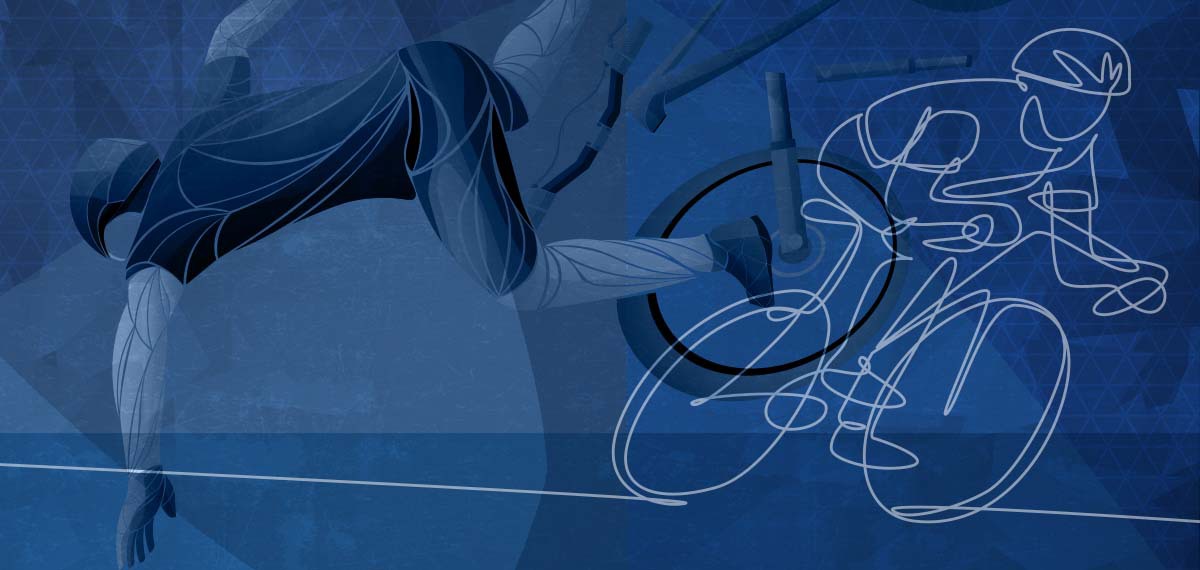 Thousands of Cyclists Killed and Injured Every Year
According to the Centers for Disease Control and Prevention (CDC), bike trips account for only 1% of all trips in the United States, but cyclists face a significantly higher risk of injury or death than vehicle occupants. Statistics reveal the scope of the problem:
The number of preventable deaths from bicycle accidents increased 6% in 2019 and has increased 37% in the last 10 years, from 793 in 2010 to 1,089 in 2019, according to the National Safety Council (NSC).
The NSC reports that cyclists suffered 308,864 nonfatal injuries in accidents in 2019.
Of the 1,089 bicyclist deaths in 2019, 712 died in motor vehicle crashes and 377 in other incidents.
According to a 2017 study by the University of California, San Francisco, medical costs of fatal and nonfatal bicycle injuries to adults in the United States amounted to $237 billion between 1997 and 2013.
Motor Vehicles and Other Causes of Bicycle Accident Injuries
Accidents involving motor vehicles are the leading cause of cyclist deaths and serious injuries. Among the ways cars and other vehicles can injure or kill cyclists include:
A driver's failure to yield the right of way to a cyclist when turning left or right
Driving or drifting into the bike lane
An insufficiently wide shoulder or lack of a designated bike lane, forcing a cyclist to ride in traffic, combined with a driver's failure to accommodate the cyclist
"Dooring," or when a person in a parked vehicle opens their door without looking behind them, resulting in the cyclist not having time to take evasive action before colliding with the door at a high speed
Intersection-related crashes, including failure to stop at a red light or stop sign
Side swipes
Road rage
Of course, many of the same factors that lead to car accidents can cause a bike crash, such as speeding, distracted driving, or impaired driving. In fact, the CDC reports that 37% of fatal bike accidents involved alcohol consumption by a motor vehicle driver or bicycle rider.
Common Bicycle Accident Injuries
When a motor vehicle and a bicycle collide, the cyclist bears the brunt of the impact, making sudden, violent contact with the vehicle, the road, or other hard objects. Such trauma is often fatal, but can also cause severe and life-altering injuries, including:
Traumatic brain injury
Spinal cord injury
Paralysis
Broken bones
Eye injuries
Loss of a limb
Internal organ damage
Severe burns
How Halunen Law's Bicycle Accident Attorneys Can Help You
Your injuries and losses after a bike accident may take many forms, and the fallout from your accident can last for months, years, or the rest of your life. Pain and diminished mobility, surgeries, hospitalizations and lengthy rehabilitation, the loss of income while medical and other bills mount – all of it can be overwhelming. It's not an ordeal you need to or should face alone.
At Halunen Law, we want you to focus on getting better, while we focus on getting you the compensation you deserve when someone else's recklessness or negligence upends your life.
When you contact Halunen Law for your free initial consultation with a bicycle accident attorney, we'll take the time to listen to your story and your struggles, answer your questions and address your concerns and develop a plan to get you the maximum amount of compensation available for:
Medical and rehabilitation costs
Past and future lost earnings
Pain and suffering
Loss of quality of life
Any other losses caused by the other driver's conduct
Halunen Law: Minneapolis Bicycle Accident Lawyers
If you've been injured or have lost a loved one in a bicycle accident, you have wounds that need to heal, bills you need to pay, and other practical and financial challenges you need to overcome. We stand ready to help. Contact us today to speak with one of our Minnesota personal injury attorneys about your case.