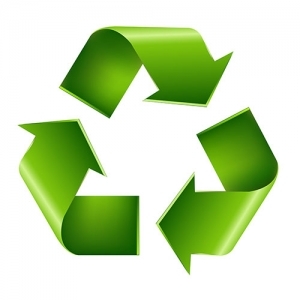 Focusing on our environmental impact and consequently readjusting the way we function in our workplace is one our priorities at Halunen Law. In the past year, we committed to reducing our impact on the environment by making some easy but highly impactful changes.
No more plastic water bottles: We chose to stop using individual plastic water bottles and switched to offering glass containers and cups to our clients, guests and employees.
Plastic water bottles leave a huge impact on our environment. In the U.S alone consumers use 1,500 plastic water bottles every second. These bottles end up in oceans, landfills, rivers, and sidewalks. This plastic is killing animals, leaking chemicals and disrupting our ecosystems. It is estimated that sixty million plastic water bottles are disposed of in one day in the U.S. alone. By ending our use of plastic water bottles, we actively became part of a solution instead of continually adding to a problem.
Cut down on paper and plant some trees: Law firms are notorious for their reams of paperwork. In the past year, we cut back where we could, and implemented a system that tracks the amount of paper we use. As a result, we are more mindful of our paper use. We also got involved in a tree replacement program.
Tree planting is one of the simplest and best things you can do to support conservation! How? Here are a few good reasons:
Forests help prevent erosion and secure soil.
Forests influence their climate, bringing rainfall across vast areas.
Forests have been drastically reduced, especially in temperate areas.
They support many wonderful species and increase habitat complexity.
And provide a huge variety of resources that we make use of now, and will want to make use of in the future.
Did you know each year approximately 15.3 billion trees are cut down? From September 2016 to October 2017 Halunen Law's paper use equated to 32.4 trees. Instead of causing further harm Halunen Law committed to making a difference. We decided to not only replace the trees we used but planted an entire acre of trees, amounting to 500-800 trees. We did this exciting project in collaboration with the State of Minnesota Future Forest Fund. Established in 1991 to encourage and enable individuals and corporations to contribute to tree planting efforts on MN state land, the program has received nearly $22,000 in donations and has planted some 79,000 seedlings since its inception. Learn more about this exciting program.
These two small steps are making a big impact. We look forward to continuing to explore ways Halunen Law can help improve our planet.
More than 400 people, many accompanied by canine companions, attended Animal Humane Society's Whisker Whirl gala on February 24 at The Depot in St. Paul. As a long-standing supporter of Animal Humane Society, Clayton Halunen was invited to speak about a recent tour of the Golden Valley Shelter and was honored to start off the evening's live auction with The Ultimate Pet Package — a real crowd pleaser.
Clayton Halunen and husband David Duddingston, along with Halunen Law attorneys Nathaniel Smith, Stephen Premo, Colin Hunter Hargreaves, staff Kerry D'Amato and friends Stephanie Duddingston and Samantha Osterhaus attended the gala.
Halunen Law supports animals in need in our community and is proud to have sponsored this event honoring Animal Humane Society's important work.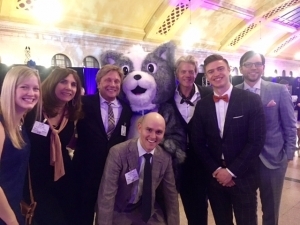 Pictured left to right: Stephanie Duddingston, Kerry D'Amato, Clayton Halunen, Stephen Premo, David Duddingston, Colin Hunter Hargreaves, Nathaniel Smith

Halunen Law attorneys, staff, and friends joined hundreds of others for "The Benefit of Innocence," in downtown Minneapolis on November 16. Guests gathered to recognize and support the work of the Innocence Project of Minnesota (IPMN), and enjoy a meal along with some good-natured competition over a host of silent auction items. The evening's featured keynote speaker Reade Seligmann was one of the three falsely accused players exonerated in the Duke Lacrosse case in 2007. He has since worked alongside the Innocence Project to advocate for eyewitness identification and compensation reform for exonerated persons. The program also included powerful video testimonies from two of five men IPMN has worked to secure release from prison for crimes they did not commit. These five men spent a combined 27 years behind bars due to wrongful conviction.
"The Innocence Project of Minnesota does incredibly important work," said Halunen Law partner and employment practice chair Kaarin Nelson Schaffer. "Their tireless effort to fight for those wrongfully convicted and to make meaningful changes to the criminal justice system is continually inspiring. We were honored to support their annual benefit and their ongoing work."