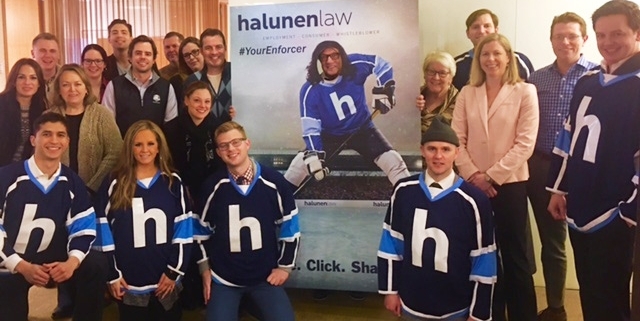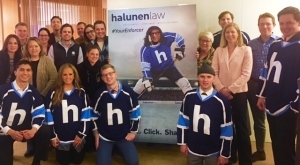 With several Halunen attorneys and staff members having played high school hockey "back in the day," and the Firm's founder Clayton Halunen hailing from northern Minnesota's hockey mecca, being part of the 2017 Minnesota State High School Hockey Tournament was a natural fit. It is also is turning out to be a lot of fun.
During the Boys' Tournament, Halunen Law's booth at the Xcel Center Tournament Zone features a large photo cutout of a hockey player. People are encouraged to stop by, 'smile, click, and share' and post their image using the #HalunenLaw #YourEnforcer on social media. For every social media post including the #YourEnforcer, Halunen Law will donate $1 to the Herb Brooks Foundation Rink Rats, up to $1,000.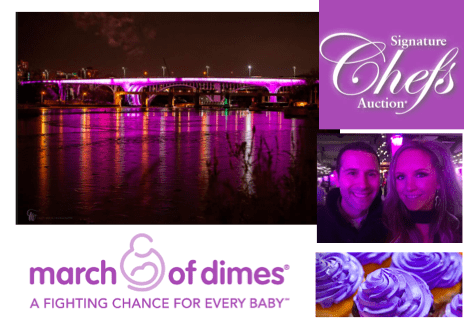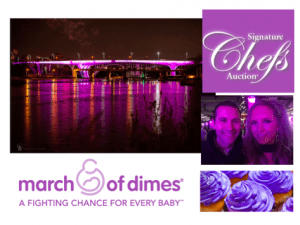 Halunen Law's Jennifer DePalma and her husband Nick recently attended the March of Dimes Signature Chef's Auction, one of select families of "preemies" invited to attend the event. The occasion raised $180,000 to support research, education, advocacy and programs that help more moms have full-term pregnancies and healthy babies. As part of this powerful evening, the 35W bridge was lit up in purple to honor the 15 million babies born prematurely worldwide, and the 1 million who die before their first birthday. Halunen Law is proud to support Jennifer and Nick in their participation of this cause that is so near and dear to their hearts.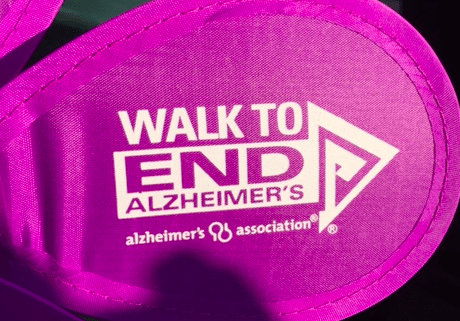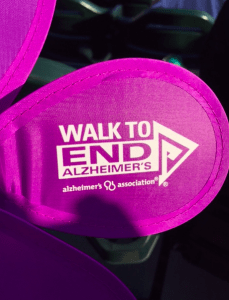 Halunen Law paralegal Jennifer M. Vukelich-Seltz will take part in the Walk to End Alzheimer's® on September 17, 2016 at Target Field in Minneapolis. Held annually in more than 600 communities nationwide, the Alzheimer's Association Walk to End Alzheimer's® is the world's largest event to raise awareness and funds for Alzheimer's care, support and research. The local event is sponsored by the Alzheimer's Association's Minnesota – North Dakota Chapter, and inspires thousands of participants from all ages and abilities from across the region. More than 5 million Americans are living with Alzheimer's and it is the sixth leading cause of death in the United States.
"I have been involved with the Alzheimer's Association and on the Walk committee for 10 years now," said Jennifer. "My Grandfather suffered from the disease and died in 2007. It's a cause that is very dear to my heart."
Halunen Law is proud to support Jennifer's participation in this important event and her dedication to make a difference.
Link here to support Jennifer's fundraising goals