More than 400 people, many accompanied by canine companions, attended Animal Humane Society's Whisker Whirl gala on February 24 at The Depot in St. Paul. As a long-standing supporter of Animal Humane Society, Clayton Halunen was invited to speak about a recent tour of the Golden Valley Shelter and was honored to start off the evening's live auction with The Ultimate Pet Package — a real crowd pleaser.
Clayton Halunen and husband David Duddingston, along with Halunen Law attorneys Nathaniel Smith, Stephen Premo, Colin Hunter Hargreaves, staff Kerry D'Amato and friends Stephanie Duddingston and Samantha Osterhaus attended the gala.
Halunen Law supports animals in need in our community and is proud to have sponsored this event honoring Animal Humane Society's important work.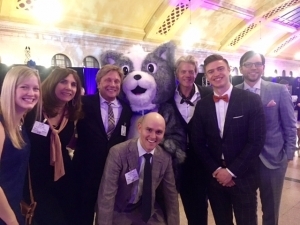 Pictured left to right: Stephanie Duddingston, Kerry D'Amato, Clayton Halunen, Stephen Premo, David Duddingston, Colin Hunter Hargreaves, Nathaniel Smith

Halunen Law attorneys, staff, and friends joined hundreds of others for "The Benefit of Innocence," in downtown Minneapolis on November 16. Guests gathered to recognize and support the work of the Innocence Project of Minnesota (IPMN), and enjoy a meal along with some good-natured competition over a host of silent auction items. The evening's featured keynote speaker Reade Seligmann was one of the three falsely accused players exonerated in the Duke Lacrosse case in 2007. He has since worked alongside the Innocence Project to advocate for eyewitness identification and compensation reform for exonerated persons. The program also included powerful video testimonies from two of five men IPMN has worked to secure release from prison for crimes they did not commit. These five men spent a combined 27 years behind bars due to wrongful conviction.
"The Innocence Project of Minnesota does incredibly important work," said Halunen Law partner and employment practice chair Kaarin Nelson Schaffer. "Their tireless effort to fight for those wrongfully convicted and to make meaningful changes to the criminal justice system is continually inspiring. We were honored to support their annual benefit and their ongoing work."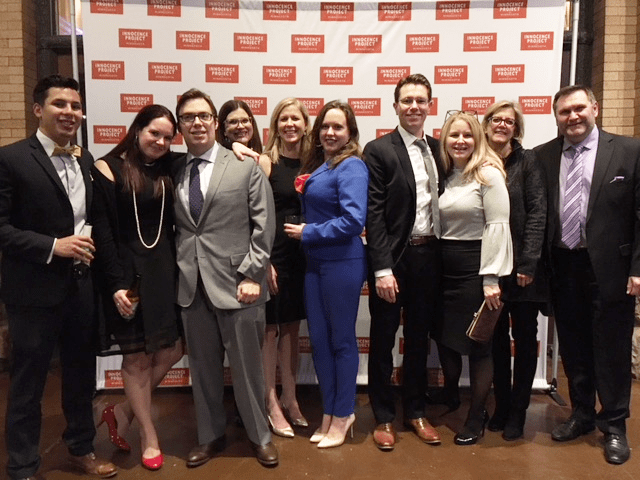 Halunen Law Paralegal Jennifer Vukelich-Seltz once again took part in the Walk to End Alzheimer's on September 9, 2017 at Target Field in Minneapolis. She and her Halunen Law team raised almost $2,000.00 this year helping to contribute to the almost $1.3 million raised for the Twin Cities Walk to End Alzheimer's – which is STILL No. 1 in the Country!
Held annually in more than 600 communities nationwide, the Alzheimer's Association Walk to End Alzheimer's is the world's largest event to raise awareness and funds for Alzheimer's care, support, and research. The local event is sponsored by the Alzheimer's Association's Minnesota-North Dakota Chapter, and inspires thousands of participants from all ages and abilities from across the region. More than 5 million Americans are living with Alzheimer's and it is the sixth leading cause of death in the United States.
Jennifer's Grandfather suffered from the disease and died in 2007 and since then it has been a passion of hers to spread awareness and support for this horrible disease.
There is still time to donate! If you'd like to help the cause, please click on the following link:
http://act.alz.org/site/TR/Walk2017/MN-Minnesota-NorthDakota?team_id=408398&pg=team&fr_id=10532
Learn more about the Alzheimer's Association Minnesota-North Dakota Chapter