Mandatory Arbitration and Class Action Lawsuits: Changes are Coming
September 14th, 2017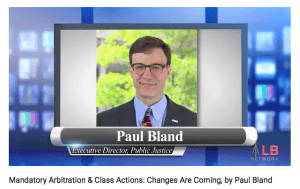 Mandatory arbitration and class action lawsuits are much in the news lately. The recent disclosure of the hacking at Equifax has people thinking about these topics, and some class actions have already been filed. Public Justice Executive Director Paul Bland is interviewed about the Congressional Review Action attack on the Consumer Financial Protection Bureau's arbitration rule. Paul explains why these issues have a significant impact on the broader public and why mandatory arbitration is so harmful to the consuming public.
Video: Mandatory Arbitration & Class Actions: Changes Are Coming, by Paul Bland
Click here to learn more about Halunen Law's consumer class action practice group and our work nationwide on behalf of consumer rights.