Halunen Law attorneys, staff, and friends joined hundreds of others for "The Benefit of Innocence," in downtown Minneapolis on November 16. Guests gathered to recognize and support the work of the Innocence Project of Minnesota (IPMN), and enjoy a meal along with some good-natured competition over a host of silent auction items. The evening's featured keynote speaker Reade Seligmann was one of the three falsely accused players exonerated in the Duke Lacrosse case in 2007. He has since worked alongside the Innocence Project to advocate for eyewitness identification and compensation reform for exonerated persons. The program also included powerful video testimonies from two of five men IPMN has worked to secure release from prison for crimes they did not commit. These five men spent a combined 27 years behind bars due to wrongful conviction.
"The Innocence Project of Minnesota does incredibly important work," said Halunen Law partner and employment practice chair Kaarin Nelson Schaffer. "Their tireless effort to fight for those wrongfully convicted and to make meaningful changes to the criminal justice system is continually inspiring. We were honored to support their annual benefit and their ongoing work."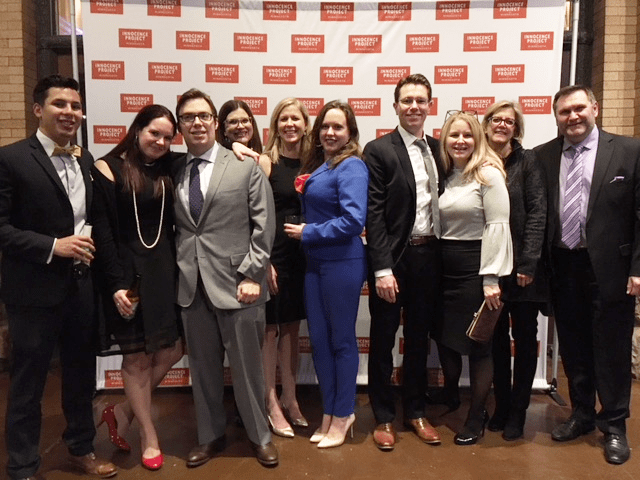 Twin Cities Cardozo Society colleagues, families, and friends, came together on Thursday, November 2 at the 18th Annual Dinner to celebrate three of its members for their professional achievements and contributions. The evening's honorees were Halunen Law partner and consumer class action chair Melissa Weiner, along with Robert Aronson and Karen Schanfield, both shareholders at Fredrikson & Byron, P.A.
Melissa received the Arthur T. Pfefer Memorial Award, honoring the memory of Arthur Pfefer, z"l, an aspiring St. Paul lawyer who was killed while serving in the Vietnam War. Recipients are Jewish lawyers and law students under the age of 35 who have already demonstrated accomplishment and show great scholarly, professional, and philanthropic potential. Halunen Law is proud to see Melissa's tenacious spirit, professional acumen, and community commitment acknowledged in such a prestigious manner.
Congratulations Melissa on this important recognition!
Melissa has been a member of the Twin Cities Cardozo Society since 2007 and has served on the Steering Committee for the past four years. She currently serves as the Under 40 Campaign Chair for the Minneapolis arm of the organization, which is an affinity group for the Twin Cities Jewish Federations. In addition to her work on behalf of consumers at Halunen Law, Melissa also sits on the Board for the Minneapolis Jewish Federation. She is active in the local legal community as well, serving as the Co-Chair of the Minnesota Federal Bar Association's Mass Tort, MDL, Class Action Committee. Additionally, Melissa sits on the Minnesota Bar Association Food & Drug Law Council. Focused on access to justice and consumer protection, Melissa was recently elected to the board of Public Justice, a Washington, D.C. based non-profit. She has also been named a Super Lawyer Rising Star each year since 2012. Melissa's community service reflects her commitment to organizations and initiatives benefitting children. She established a Young Professionals Committee for Make-A-Wish™ of Minnesota and serves on SOAR – the Young Professionals Committee for Children's Cancer Research Fund.
About the Twin Cities Cardozo Society:
The Twin Cities Cardozo Society provides networking and community for Jewish attorneys, judges and law students. It strengthens bonds among legal professionals through educational, social, and philanthropic activities, and offers opportunities for communal involvement and leadership. Click here to learn more.
Melissa Weiner chairs the complex litigation and class action practice. Her work is squarely focused on combating consumer deception, particularly in the consumer products arena. Melissa has taken a leadership role in numerous large class actions and multi-district litigations in cases across the country. Read more about Melissa S. Weiner's professional and personal accomplishments by clicking here.

Halunen Law Paralegal Jennifer Vukelich-Seltz once again took part in the Walk to End Alzheimer's on September 9, 2017 at Target Field in Minneapolis. She and her Halunen Law team raised almost $2,000.00 this year helping to contribute to the almost $1.3 million raised for the Twin Cities Walk to End Alzheimer's – which is STILL No. 1 in the Country!
Held annually in more than 600 communities nationwide, the Alzheimer's Association Walk to End Alzheimer's is the world's largest event to raise awareness and funds for Alzheimer's care, support, and research. The local event is sponsored by the Alzheimer's Association's Minnesota-North Dakota Chapter, and inspires thousands of participants from all ages and abilities from across the region. More than 5 million Americans are living with Alzheimer's and it is the sixth leading cause of death in the United States.
Jennifer's Grandfather suffered from the disease and died in 2007 and since then it has been a passion of hers to spread awareness and support for this horrible disease.
There is still time to donate! If you'd like to help the cause, please click on the following link:
http://act.alz.org/site/TR/Walk2017/MN-Minnesota-NorthDakota?team_id=408398&pg=team&fr_id=10532
Learn more about the Alzheimer's Association Minnesota-North Dakota Chapter