Halunen Law Sponsors Animal Humane Society's Whisker Whirl
March 8th, 2018
More than 400 people, many accompanied by canine companions, attended Animal Humane Society's Whisker Whirl gala on February 24 at The Depot in St. Paul. As a long-standing supporter of Animal Humane Society, Clayton Halunen was invited to speak about a recent tour of the Golden Valley Shelter and was honored to start off the evening's live auction with The Ultimate Pet Package — a real crowd pleaser.
Clayton Halunen and husband David Duddingston, along with Halunen Law attorneys Nathaniel Smith, Stephen Premo, Colin Hunter Hargreaves, staff Kerry D'Amato and friends Stephanie Duddingston and Samantha Osterhaus attended the gala.
Halunen Law supports animals in need in our community and is proud to have sponsored this event honoring Animal Humane Society's important work.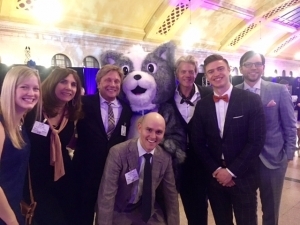 Pictured left to right: Stephanie Duddingston, Kerry D'Amato, Clayton Halunen, Stephen Premo, David Duddingston, Colin Hunter Hargreaves, Nathaniel Smith