MINNEAPOLIS, MINN (August 24, 2018): Halunen Law is pleased to announce firm founder and managing partner Clayton Halunen, and client Heidi Weber will be featured in the August 31 episode of CBS' new Whistleblower television series. Weber won a judgement in excess of $1 million in her 2013 civil court case claiming her former employer, Woodbury, Minn.-based Globe University/Minnesota School of Business, wrongfully terminated her. As Dean of the Globe Medical Assistant Program, Weber was let go in April 2011. Weber claimed the for-profit school engaged in consumer fraud by making misleading statements to students about its job placement rates and failing to meet its commitment to place all qualified medical assistant program students in externship programs, according to court records. Rather than address her concerns constructively, Globe University officials chose to silence her by firing her.
Weber's courage and conviction to blow the whistle on the school's misleading and illegal practices resulted not only in a significant financial judgment, but garnered the attention of Minnesota's Attorney General, and brought a national spotlight to the unethical practices embraced by many for-profit colleges. As a result, schools across the region and nation have ceased operation.  Clayton Halunen and employment attorney and partner Ross Stadheim were instrumental in achieving the verdict and bringing broader attention to the case.
"We are immensely proud that CBS chose to share Heidi's compelling, courageous story," said Halunen. "Heidi epitomizes the guts and determination it takes to blow the whistle. And her case conveys what we so passionately believe; one person seeking justice can have a profound impact on creating meaningful change. We are grateful to host and executive producer Alex Ferrer, producer Caroline Sommers, and the CBS Whistleblower team for their exceptional work conveying Heidi's difficult but ultimately rewarding journey. I encourage everyone to tune in on August 31."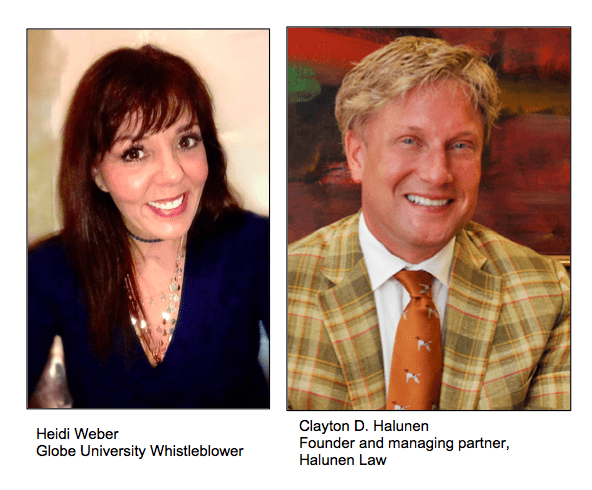 About the Whistleblower Series: Whistleblower takes a thrilling look at the real-life David vs. Goliath stories of heroic people who put everything on the line in order to expose illegal and often dangerous wrongdoing when major corporations rip off U.S. taxpayers. Hosted by attorney Alex Ferrer, a former judge and police officer, each hour introduces cases in which ordinary people step up to do the extraordinary by risking their careers, their families and even their lives to ensure others are not harmed or killed by unchecked, unethical corporate greed. The show airs Fridays on CBS. Streaming is available at https://www.cbs.com/shows/whistleblower/
About Halunen Law: With offices in Minneapolis and Chicago, Halunen Law offers experienced legal representation to protect whistleblowers that have experienced retaliation or are planning to blow the whistle. They also offer experienced legal representation to individuals who are blowing the whistle on government fraud under the False Claims Act and other statutes. More information at halunenlaw.com.
Related Coverage
WCCO TV – Minneapolis: Whistleblower Hopes Win Over Globe University Inspires Others To Speak Up: https://minnesota.cbslocal.com/2018/08/31/whistleblower-heidi-weber-globe-university/
CBS News coverage of Whistleblower series The Case Against Globe University: https://www.youtube.com/watch?v=Vv8Rs607GZc
KELO TV: South Dakota Native Shares "Whistleblower" Story With CBS News: https://www.keloland.com/news/national/south-dakota-native-shares-whistleblower-story-with-cbs-news/1409691786