Halunen Law Attorney Amy Boyle Named Partner at Firm
August 1st, 2018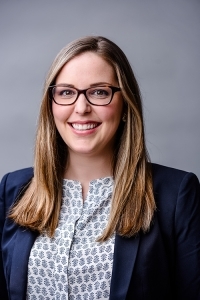 MINNEAPOLIS, MN — (August 1, 2018) Halunen Law is pleased to announce attorney Amy Boyle was recently made a Partner at the firm. Boyle has been with Halunen Law since October 2015 and works with the employment and class action practice groups. Her reputation as a first-rate litigator and staunch defender of plaintiffs' rights, has garnered much praise and recognition by colleagues and clients alike.
"Amy's personal approach, robust litigation experience, and deft ability to navigate difficult, prolonged cases has made her an exceptional member of our team," said Clayton Halunen, founder and managing partner of Halunen Law. "I'm incredibly proud of the work she does and pleased to acknowledge her contributions by making her a Partner at the firm," added Halunen.
A Cum Laude graduate of University of St. Thomas School of Law, Boyle received the Minnesota State Bar Association's Law Student Award for Excellence in Employment Law. She holds bar admissions in Minnesota, New York, and Wisconsin. Boyle is a member of the Warren E. Burger Inn of Court, a by-invitation organization of attorneys and judges dedicated to promoting excellence in legal advocacy. She is also a Board Member for the Federal Bar Association's Younger Lawyers Division and Alternative Dispute Resolution Section and is an active member of Minnesota Women Lawyers.
Boyle grew up in Janesville, Wisconsin and graduated from Milton High School. She received her B.A. from the University of St. Thomas, in St. Paul, Minnesota with a focus on Legal Studies in Business and International Business—Spanish.
About Halunen Law
With offices in Minneapolis and Chicago, Halunen Law offers experienced legal representation to employees, consumers and whistleblowers in individual and class actions. Halunen also offers experienced representation to employees and whistleblowers under the False Claims Act and other statutes. Halunen Law has achieved a reputation as a fearless, tenacious and successful plaintiffs' law firm, with a laser focus on achieving justice for its clients as well as meaningful social change. For information on the firm visit www.halunenlaw.com.
###