Cool Offices: Halunen Law Forgoes Tradition
September 13th, 2016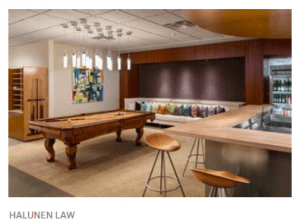 Halunen Law inspires teamwork among its multigenerational staff by thinking beyond cubicles and conference rooms.
In late 2015, the firm renovated its downtown Minneapolis office with tech-enabled, collaborative workspaces and a central area for socializing, while keeping the outer perimeter of lawyers' offices intact.
"Being captive in an office or cubicle without opportunity to really engage and collaborate, is something that they feel uncomfortable with," says founder and Managing Partner Clayton Halunen of younger staff members.
Halunen Law expanded its office to 8,000 square feet to match its growth. Annual revenue doubled over the last four years to between $6 million and $10 million. Lawyer count has risen to 15.
Felt-lined or leather booths and high-top tables were installed for casual discussions. When teams need to review or edit a document together, they meet at a tech-enabled work table from Steelcase. Each person uses a puck to edit the document that's up on a large screen.
"Law firms are typically boring, to be honest with you," says Halunen. "Our people are more like extroverted and sort of very active, involved. This is more us than that kind of space."
HGA Architects and Engineers partnered with construction company Crawford Merz for the renovations.
Impressionist and abstract paintings decorate the office — all original works by Minnesota artists. Clayton Halunen collects the pieces himself, with an eye for pieces that are "uplifting" and "stimulating." He also invites local artists to the office to talk about their work.
"We're engaged in our community, but on a professional level, and we want our lawyers here to be educated culturally and artistically," says Halunen.
Before the renovations, employees ate lunch together at one of the conference tables. "It became the dining room," says Halunen. For the new space, HGA designed a triangular table custom-built by Goebel Fixtures Co., based in Hutchinson, Minn. Up to 20 employees can sit together for meals or meetings.
In the center of the office is a social area furnished with a bar, pool table, couch and countertop. A colorful abstract painting by St. Paul-based artist Kimberly Christenson adorns the wall. A few nights a week, employees like to stay afterwork to socialize, "have a cocktail or two," and play some competitive games of pool.
"People work hard all day long. We have trials," says Halunen. "And I just thought there needed to be a place where people could really just be together, just hang out."
Lawyers visiting from New York and Los Angeles have been impressed with the modern, creative take on a law office. Even opposing council has complimented the design.
Company name
Business: Employment Law, Government Fraud, and Consumer Rights
Top Executive: Founder and Managing Partner Clayton Halunen
Employees: 29 (15 lawyers)
Building: IDS Center
Address: 80 S. Eighth St., #1650, Minneapolis
Office renovation complete: January 2016
Size: 8,000 square feet
Floors: 1
General contractor: Crawford Merz
Design: HGA Architects and Engineers
Cool Offices is a free editorial feature showing off interesting Twin Cities workspaces. Want to see your office featured? Send high resolution photos and a brief description of the space (including its location, size, use, features, technology, employee count, designer and builder) to Managing Editor Mark Reilly for his consideration.
Rachel Siegel
Staff Writer
Minneapolis / St. Paul Business Journal