Clayton Halunen Recognized for Work on Behalf of LGBTQ Community at Business of Pride Award
June 19th, 2018
Nearly 200 people gathered at the Nicollet Island Pavilion on Thursday, June 14 for the Twin Cities Business Journal's first-ever Business of Pride awards event. The evening, and accompanying special publication, honored 24 individuals for their business success and advocacy for LGBTQ issues. Halunen Law is proud that Clayton Halunen was recognized as a Business of Pride honoree. The esteemed group was comprised of entrepreneurs, corporate executives, nonprofit leaders, and many more. All were heralded for their professional success and making a difference in advancing equality in the business world and community at large.
"I am humbled and honored to be in the company of so many accomplished individuals and to have our shared commitment be recognized in such a significant way," said Clayton Halunen, founder and managing partner of Halunen Law. "I am passionate about the work I do on behalf of the LGBTQ community. And although we've made progress, there is still much to do. I will continue to pursue justice for our community through my legal practice and my life-long personal advocacy."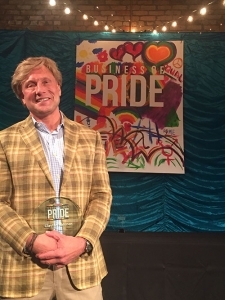 Clayton Halunen is the founder of Halunen Law, which represents employees, consumers, and whistleblowers in individual and class actions. Halunen Law has achieved a reputation as a fearless, tenacious and successful plaintiffs' law firm, with a laser focus on achieving justice for its clients as well as meaningful social change. Clayton's representation of Vikings punter, Chris Kluwe, during the team's investigation of Kluwe's allegations of homophobic comments by a Vikings coach, was instrumental in achieving a historic settlement advancing GLBT rights in professional sports.
Learn more about Clayton Halunen.