MINNEAPOLIS – (April 3, 2017) Halunen Law has named Melissa Wolchansky as an equity partner in the Minneapolis-based employment, whistleblower and class action law firm. Wolchansky chairs the firm's complex litigation and class action law practice.
"Melissa has been instrumental in elevating our class action law practice to national prominence," says Clayton Halunen, founder and managing partner of Halunen Law. "She's passionate about defending the rights of individuals and consumers in their pursuit of justice against corporate wrong-doers."
The firm's willingness to vest her as an equity partner "speaks volumes" about its commitment to equity in the workplace, says Wolchansky. "It's still not easy for women, especially young women, to break the glass ceiling in much of the legal industry. No such barriers exist at Halunen Law. The sky is really the limit."
Halunen Law works on hundreds of class action lawsuits annually, up from "a handful" when Wolchansky joined the firm in 2012. The opportunity to build the practice from the ground up appealed to her entrepreneurial spirit, and the firm's focus on obtaining justice for individuals through the legal system coincided with her own.
"In class action work, we can make a significant consumer impact and challenge corporate fraud and greed," she says.
To build the firm's reputation in class action law, Wolchansky actively networks with peers throughout the country and speaks often at legal conferences and seminars. "We collaborate with attorneys across the country on many of our cases, and I'm proud that other firms recognize our capabilities and work ethic."
The work offers great variety. "I could be working on food issues one day, then financial fraud the next," she says. Her work in correcting the harm caused by deceptive marketing practices in food and consumer products has earned her a growing national reputation as a go-to attorney for those types of cases. "False advertising is a hot-bed area of the law, as people are becoming increasingly concerned with the contents of their food and consumer products.
As an equity partner, Wolchansky looks forward to promoting the continued success of Halunen Law and its focus on justice for consumers, employees, and whistleblowers. "The firm has a clear sense of its mission, and I see us continuing to grow locally and nationally in our three practice areas – class action, employment and whistleblower/fraud against the government," she says.
About Melissa Wolchansky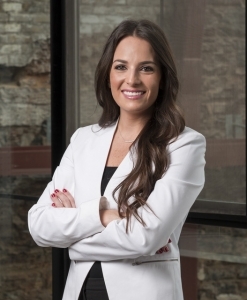 A Minnesota native, Wolchansky obtained a B.A. in political science and Spanish from the University of Michigan, and earned her law degree from William Mitchell College of Law (now the Mitchell Hamline School of Law) in St. Paul, Minn. Active in the local legal community, Wolchansky also sits on the Steering Committee for the Twin Cities Cardozo Society, an affinity group for the Twin Cities Jewish Federations, speaks frequently on class action law issues at local and national conferences, serves on the Minnesota Bar Association Food & Drug Law Council and is active in the Federal Bar Association. Wolchansky is also passionate about children's charities, establishing a Young Professional Committee for Make-A-Wish of Minnesota and she is actively involved in supporting the Children's Cancer Research Fund. Starting in 2012, Thomson Reuters' Super Lawyers magazine has named her annually as a Super Lawyer Rising Star.
View Melissa's profile to learn more
About Halunen Law
Halunen Law, with offices in Minneapolis and Chicago, has expertise in litigating consumer class actions and a track record of success in challenging dishonest marketing, corporate fraud and illegal business practices. Halunen also offers experienced representation to employees and whistleblowers under the False Claims Act and other statutes. Visit Halunen online at www.halunenlaw.com or call 612-605-4098 to contact the firm.
# # #
Save